NEWS
'Hunger Games' Star Elizabeth Banks: Is She Team Peeta or Team Gale?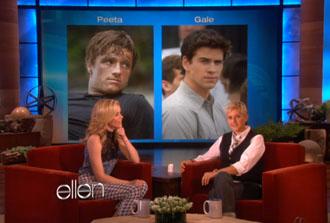 Elizabeth Banks may star as Effie Trinket in The Hunger Games, but she's also a HUGE fan of the book series and has been for years!
So, when she stopped by The Ellen DeGeneres Show to talk about the movie, she couldn't help but give her two cents on the franchise's hotties — you know, Josh Hutcherson and Liam Hemsworth!
OK! GALLERY: THE CAST OF THE HUNGER GAMES GET MUSHY AT THE PARIS PREMIERE!
"They're yummy, delicious boys... really yummy!" Elizabeth gushes to Ellen DeGeneres in her interview, airing today. "They make me go, 'AHHH!!!'"
Article continues below advertisement
But, is she Team Peeta or Team Gale?
"I have to go with Team Peeta because he really loves Katniss (Jennifer Lawrence)," she admits. "I just love how good his heart is, so he's the one for me."
Something she doesn't love though is her character Effie's costumes, which were extremely "impractical."
OK! NEWS: THE HUNGER GAMES RELEASES NEW MOVIE STILLS!
"I have these bejeweled nails and you can't undo buttons," Elizabeth tells Ellen, adding that she wore constricting undergarments "holding it all together."
"I couldn't go to the bathroom, so I had ladies in waiting," she explains. "I would stop drinking water because I felt so bad about bringing people to the bathroom with me!"
Are you excited to see Elizabeth as Effie?