NEWS
'Hunger Games' Star Josh Hutcherson Explains Team Peeniss & Peetaphiles to Conan O'Brien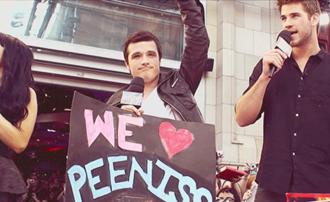 Josh Hutcherson shared a few laughs with Conan O'Brien last night over some of the creative signs his Hunger Games fans have made to get his attention. It started small with messages of loyalty to his character saying "Team Peeta," but then they started to take a turn towards the inappropriate!
OK! GALLERY: JOSH HUTCHERSON GREETS FANS WHILE PROMOTING THE HUNGER GAMES ON GOOD MORNING AMERICA
"My character Peeta is a baker and it started like, 'You Can Put Your Loaf in my Oven' and then it was like, 'Is That a Loaf of Bread in Your Pocket or Are You Just Happy to See Me?' " Josh recalled on Conan.
Article continues below advertisement
But that wasn't even the worst one!
Josh brought a photo of himself posing with a fan's sign that supported Peeta and Jennifer Lawrence's character Katniss as a couple. The sign read, "We Heart Peeniss."
Do you think Peeniss is a better combination of their names than Katpee?
Watch the hilarious interview clip over at teamcoco.com!