NEWS
Husband of Tamra Barney of 'Real Housewives' Says She's Disloyal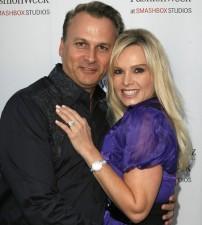 Spoiler alert! The promo's for this week's episode of The Real Housewives of Orange County shows housewife Tamra Barney crying to her mother about how her marriage to Simon Barney is heading to divorce. Well, it seems she was crying for good reason.
Tamra's husband Simon filed for divorce on Wednesday, Radar Online reports, charging his wife with infidelity.
But cheating isn't the only foul he's callling — he's also claiming abuse.
Article continues below advertisement
Simon wrote in the divorce papers, "Petitioner contends that Respondent has been verbally abusive and has committed acts of disloyalty and infidelity."
Earlier this week, Tamra moved out of their million-dollar home and into a two-bedroom apartment, a source close to the couple said.
Although the source said Tamra and Simon had been having relationship problems for several years, she was not aware that he was filing divorce papers.
Simon confirmed that he did file for divorce and told Radar Online that, "The papers speak for themselves."
"Simon has simply had enough," the source said. "The show changed her."
Tamra and Simon have been married for 11 years and have three children, and Tamra has a son from a previous marriage.
On The Real Housewives of Orange County, Tamra has been the one yelling at Gretchen Rossie claiming she was unfaithful to her former fiancé Jeff Beitzel.
Now she'll be getting it right back — from her husband.