NEWS
'I Am Number Four' Stars Review Aliens Vs. Vampires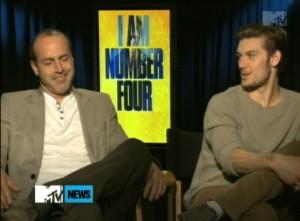 If you're a Twi-hard you may have seen the trailer for the new film I Am Number Four and thought it looks a lot like Twilight, but with aliens. Well, the stars of I Am Number Four are confident that aliens beat vampires.
OK! GALLERY: ALEX PETTYFER MAKES MOVES ON DIANNA AGRON ON GLEE SET
MTV News chatted with director D.J. Caruso and stars Alex Pettyfer and Timothy Olyphant about whether they think aliens are the new vampires!
Article continues below advertisement
"I didn't notice aliens kind of going in and out of fashion," Timothy, who plays Alex's mentor in the film, Olyphant, explained. "Where vampires kind of come and go, aliens, in general, it's a broader palette, so they've been around."
"I'd take aliens over vampires any day," Caruso said. "Aliens are much more intriguing."
"Aliens have always been around," he added. "Vampires: They're wearing out."
OK! VIDEO: WATCH ALEX PETTYFER STRIP DOWN FOR ELLEN DEGENERES & HER LUCKY AUDIENCE!
And Alex suspects that aliens could actually be real.
"There's got to be something out there — one way or another," Alex said.
"I think there's something else out there," Caruso agreed. "I can't imagine that God's just allowing this one planet to function; I think he's got a bunch of experiments floating around."
Watch the cast's discussion below!