NEWS
'I Have No Animosity For Lauren,' Says Heidi Montag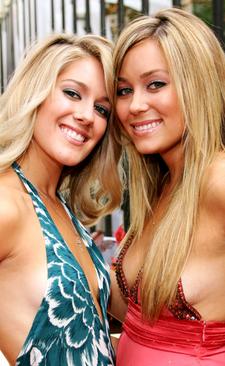 They may not be speaking to each other any more, but Heidi Montag says she has no hard feelings toward her ex-BFF, Lauren Conrad.
Heidi, the one-time sidekick to the Hills star, says that she still thinks her former roomie is a "great person", even though she forced her to choose between her best friend and her boyfriend.
"The truth is, I have no animosity," said the 21-year-old, appearing on The View this morning with the man in question, on-off beau, Spencer Pratt.
Article continues below advertisement
"I think Lauren is a great person and I am not that kind of person -- I don't hate somebody.
"I don't have feelings like that. I'm on a higher path."
When the hosts asked if she thought Lauren felt the same way, Heidi replied: "I don't know. I just try and be the best person I can.
"Obviously our friendship didn't work out because she was saying, 'you either have to choose your boyfriend or me.'
"And I was like, 'Well, I didn't like your boyfriend but I wouldn't do that to you -- I'm not that kind of friend.'"
The 21-year-old, who just released her latest single, Fashion, on Monday, also told the show why she decided to speak publicly about her boob and nose job last year.
"Well, for me it was just a life changing thing and, you know, I think a lot of people go through insecurities and I was teased through a lot of things my whole life," she said.
"Instead of speculation I wanted to give my side of it and why I did it."