NEWS
I Love New York...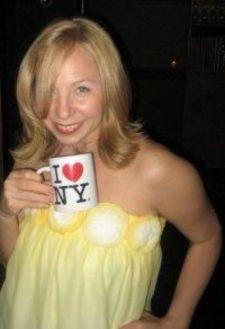 But for now, I've got to go...
In my head, I'm not moving across the country, just spending more time there.
I'm comforted knowing my sister's staying at our apartment in Soho so my comfy couch is still here and Virgin America has really inexpensive flights from LAX-NYC - the girls - Christy, Ali C and Ali P - P. even managed to work that into the invite for my not-so-going-away party. The girls have now given themselves the moniker CA2, I think they're going into the event planning business. After my party, I think they should. We had so much fun and I'm so grateful to be blessed with a great group of friends. They made me overcome (for the most part) a main reason I think I've never been into parties for myself. It's not 'I don't like being the center of attention,' which really isn't true or not, but more that I someone always focus on who didn't come rather than who did. This time the girls made me pay more attention to who was there than who wasn't and they're right. I'm so gracious and blessed to have such a great group of friends, and the fulfillment of friendship is definitley quality over quantity.
Article continues below advertisement
It's been a day since, my hangover has just washed off after ten hours sleep (wine with dinner, vodka martinis, tequila shots, pink shots and champagne from the bottle not such a smart idea) and now I'm packing up and heading to the airport!
I'm going to miss my friends but it's amazing how close we can stay in contact with modern technology. I'm going to miss walking aimlessly around downtown, sample sales, the way the sun casts shadows on the buildings lining narrow streets, the history, Broadway, people watching in the park and seeing things that happen 'Only in New York.' But, at the same time, I welcome my new chapter filled with old friends I'll see more of again, sunshine, a bigger house, hiking, driving with the top down, the sound of the waves when I make it to the beach, meeting new people and seeing new things. Bon voyage. Have a happy weekend ;) xo