NEWS
IDOL: David vs. David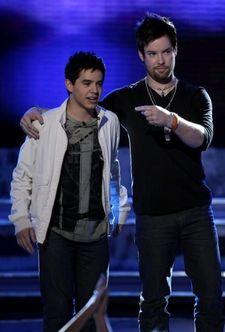 It's been a long battle to American Idol's top two.
I've been pretty vocal about my favorite David (just Cook it for me!), but I wanted to see where I stood among a cross section of my peers.
So I took a little informal poll in the OK! office to find out which David should come out on top. Here's what other Idol fans had to say…
Rob S., Deputy Editor
Who He Chose: Archuleta
"He is soo sweet, and what the world needs now is love, sweet love," Rob coos. "I want to pick him up and put him in my pocket!"
Article continues below advertisement
Rana M., Copy Editor
Who She Chose: Cook
Rana declares, "C is for Cookie, and he's good enough for me!"
Laura S., Senior Writer
Who She Chose: Cook
"He has more natural talent, he's more magnetic and he has genuine star power," Laura says.
David D., Controller
Who He Chose: Archuleta
Says David, "I said from week one he was the only one I would pay $20 to see sing!"
Elizabeth H., Deputy Copy Chief
Who She Chose: Cook
"Me want Cookie! Let the rock star win!" says Elizabeth.
Barbara H., AP Coordinator
Who She Chose: Archeluta
Barbara says, "He has a beautiful voice. Like Randy said, he can sing the phone book."
If our office is any indication of how tonight's going to turn out, it's going to be a nail biter to the end!
American Idol, season finale, airs Wednesday, May 21 at 8 p.m. on Fox.