NEWS
Idol Hangover: The Morning After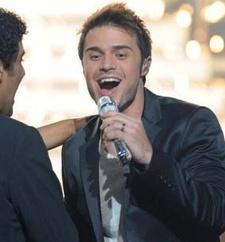 Wednesday night's American Idol finale was nothing if not fodder for water cooler discussions around the country this morning. From Kris Allen's surprise victory over presumed front-runner Adam Lambert to Kara DioGuardi's bikini-bod showdown with Katrina Darrell, there certainly was plenty to keep both die-hard fans and curious newcomers talking for days.
And people certainly were talking over at OK!'s <a href="https://twitter.com/okmagazine" target="_blank">Twitter page</a>.
Article continues below advertisement
Here are some choice Tweeted tidbits:
ON THEIR FAVORITE MOMENT OF THE NIGHT:
Crysssss: I couldn't pick a favorite part if you paid me.. The whole show was AMAZING!!!!!!!!!!!!
DolceVitaRita: Kara getting on stage to show up the bikini bimbo!
deannsprankle: my fave part of finale when Black Eyed Peas took the stage! it was great! and allison's duet. worst: when the result announced!
marissaberman: definitely the bikini girl part and when that other girl ran up on stage and stole the mic from ryan
SPEAKING OF THE BIKINI BATTLE, SEEMS LIKE OK! READERS PREFERRED KARA OVER KATRINA!
dianasorace: Kara is a wicked singer, wicked body. But still think she should be dropped from the show. wicked annoying.
stephvaz: omg that was one of the highlights of last night. totally made all of those criticisms about her as the 4th judge go away
mysugarisraw: Kara DioGuardi !! Katrina is fake, needs to get over herself. p.s - she cant sing either.
Article continues below advertisement
WHERE DO YOU SEE KRIS LAMBERT'S CAREER IN A FEW YEARS?
shawnalynch: I like both of them; however, Adam will have the "career"
JennCleveland: I think peeps didn't vote 4 Adam cuz of his personal choices & not his talent. It's bull! AL will sell millions of records anwy.
dianasorace: Adam Lambert will be VERY successful, he doesn't need the show or "crown" to succeed.
nicki_: nowhere. american idols a good show but they ever REALLY turn into idols. people just wanna see the next one its a failed system.
deanaontheradio: Opening for runner-up!
louie88: Backup singing for @adamlambert on his universal tour!
skiingscooter: ok here's a ? 4 U...where is Ruben or Taylor for that matter???about 15 hours ago from TweetDeck in reply to OKMagazine
rosienybk: like justin guarini
Nora_Kaulitz: Four words: Concert at Balloon Festival. Adam however, three words: On The Rise!!
ILoveMyDVR: I see Kris doing as well as artist lke Jason Mraz. If he can write songs as well as he can sing, he will do well.