NEWS
Idol Insider: The Final Three Perform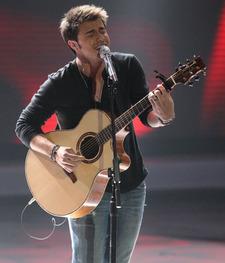 As American Idol rolls on toward next week's season finale, OK! asked one of the few people on the planet who know what it's like to ride the AI rollercoaster for an entire season — Diana DeGarmo — to share her unique perspective the hit show.
May 12 — THE FINAL THREE
We've made it down to the bottom three and let me say times have changed!
I sat watching the show thinking, "Wow, this is soooo different." To everyone else it might seem the same, but to me it feels like a whole new show.
Article continues below advertisement
On my season, we each got to sing three songs for the top 3 round, never had in-ear monitors, and definitely didn't have as much drama! The show has really grown into a machine!
ANYWAY! Sorry for the trip down memory lane again......
Last night's top 3 show was a show- down. I enjoyed myself from beginning to end. It was kind of funny to watch the judges duke it out over little comments, but the boys stepped up their game for sure! Kris Allen, Danny Gokey, and Adam Lambert were ready to battle it out for one of those two coveted spots in next week's finale.
First up, Danny came out sang-ing Terence Trent D'Arby's "Dance Little Sister." Randy was right when he said that the night's opening performance was a sign to "let the games begin." Danny's voice fit so nicely with the song and, in spite of whatever Paula or Kara say, I didn't mind his little dance moves. I believe Simon picked on Danny's grooving just because he had nothing else to critique!
Kris came up next with a surprise performance of One Republic's "Apologize." The judges really did Kris right by picking this song, which was just right for Kris. It was nice to see him sitting at the piano, too. Kara picked on him a little too much, but hey, the judges are open to their own opinions — even if we don't like them! BUT! I also think the judges need to be reminded on occasion that the show isn't about their quarrels; it's about the contestants!
Article continues below advertisement
Last up for the first go-around was Adam. Once again, the judges picked a great song with U2's "One." I think he gave the song some really cool changes without straying too far from the beauty of the original version. I liked that he started off the song on the lighter side and gave it somewhere to grow. I also think it was a good idea for Adam to take the stage sans makeup for once. We all love Adam's glam-rock look, but it was refreshing to see just him.
Danny's second song of the night was "You Are So Beautiful" by Joe Cocker. Even though I really, really liked his performance I wished he would've picked a more up-to-date song. Danny has such a great voice, but I think the judges are having a hard time seeing him as a contemporary artist. He truly gave a "vocal master class" performance with that song.
(On a side note, I actually flew in to Nashville from Milwaukee with Danny's family and they are so proud of him!)
Article continues below advertisement
Back up for his second turn was Kris, who really put himself back into the game with his rendition of Kanye West's "Heartless." I just love that he played the guitar and took The Fray's approach to the song. The judges were digging everything about him. I would've originally thought it would be a Gokey/Lambert contest at the end, but they had better watch out because Kris is gonna give them a hard run for their money after that smash hit!
The last, but certainly not least, performance of the night was the big, the bad, Adam Lambert, who sang Aerosmith's "Cryin" and took us just close enough to the edge that he pretty much sealed his fate into the finals. We all know that Adam has been a huge contender throughout the competition, but Simon is right that YOU HAVE TO VOTE!! Adam went back to his eye-liner and leather for his final top 3 performance and everyone ate him up.
I am super-excited about tomorrow night's reveal of the final two. It's hard to believe that yet another season of American Idol is almost at a close. I will be staying out here in L.A. to revel in all of the Idol festivities over this next week. So I promise to keep you all updated on all of the juicy Idol gossip and news!
Talk to ya tomorrow!
—Diana
Diana can currently be seen performing in Back to Bacharach & David, directed by Kathy Najimy, at the Music Box @ Fonda in L.A. through May 17. And you can always keep up with Diana on her !