NEWS
Idol Oops: David Archuleta Forgets the Lyrics!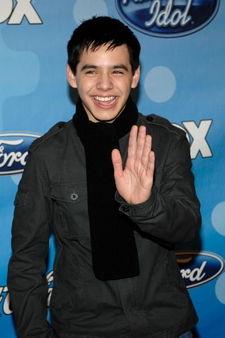 While David Archuleta has so-far been considered the front-runner of this season of American Idol, it appears that the young singer might have sung himself into a rut after his embarrassing first-round performance.
Archuleta, who closed the show with the Stevie Wonder-inspired version of "We Can Work it Out," couldn't do just that, and broke the cardinal rule of singing — don't forget the words!
It was a tough moment for the 17-year-old singing sensation, who admitted in his pre-taped segment to being nervous about singing this particular song, especially on a night in which American Idol unveiled a new, larger stage and for the first time, contestants on the Fox reality show were allowed to sing the rich John Lennon/Paul McCartney songbook.
Article continues below advertisement
While Carly Smithson, David Cook, Brooke White and Chikeze impressed the judges and audience, David Archuleta fell embarrassingly flat.
"This wasn't your best week," Paula Abdul sighed, "Forgetting the lyrics gets a little tough." Simon Cowell put it more bluntly, saying, "That was a mess... your weakest performance so far."
After his version of John Lennon's "Imagine" thrilled America, Archuleta, a former Star Search winner, has been considered the leader of the singing contest. But now, it's a whole new ball game. An eyewitness says it was evident when American Idol ended and the contestants stood together in a group.
While Carly and David Cook were ecstatic, hugging each other over their hard-rocking versions of "Come Together" and "Eleanor Rigby," respectively, no one paid much attention to Archuleta.
Chikeze, who brought the house down with his entertaining take on "She's a Woman," clapped politely for Archuleta when they replayed his song clip at the end of the show, but it seemed like the others ignored him. It was very clear who had done the best, and it wasn't the singer everyone expected.
Former Season 4 Idol contestant, Constantine Maroulis, currently the host of American Idol Extra, recently implied to OK! that Archuleta's humility might be an act to get votes. "I don't know if I buy the whole 'I'm so shy' type of thing, especially when he was wailing on Star Search."
By Carole Glines