NEWS
IDOL RECAP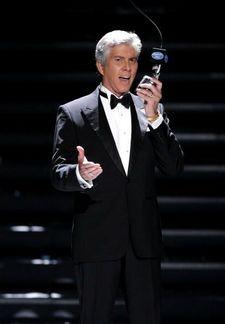 OK!'s Elizabeth Herr breaks down our fave show of the night: American Idol!
"It's the David/David finale we've all been expecting for, oh, about the last 10 weeks. I really haven't had this strong a rooting interest (Cookie, duh) in the final since all the way back to Kelly Clarkson in season one.
There's some corny boxing crap to lead us into the main event: The Davids come out in their robes like fighters about to enter the ring. It's kind of cute, but the metaphor gets seriously belabored throughout the evening (go away, Jim Lampley!) and is nowhere near as clever as you know the producers think it is. For some reason, they brought back Andrew Lloyd Webber to coach them through their three songs. Did my retinas really need the additional scarring that ALW brings?
Article continues below advertisement
Archie won the coin toss and is going second. Of course. Clive Davis chose the songs for Round 1, and for Cook he's picked U2's "I Still Haven't Found What I'm Looking For." My boy sounded amazing and went all out last night, taking it up to the catwalk behind the judges' table. He ended on this awesome, scooped-up note, and wow. I've said it before, but I'll say it again — he is a rock star. Randy loved it. Paula loved it. Simon thought it was phenomenal. Yes!
Clive's pick for Archie: "Don't Let the Sun Go Down on Me." Smart choice, Mr. Davis. This is right in little David's wheelhouse. And the kid's pulling out all the stops, but I don't know… he has no soul. It's all very by-the-book and stiff. Randy said it was flawless. Paula got goose bumps. Simon said it would be easy to get overexcited, and I was sure he was about to lower the ax, but no, what he actually did was tell him it was the best he's done so far, declaring Round 1 for Archie. Whatever.
Article continues below advertisement
Round 2: The boys get to choose their own coronation songs out of the top 10 vote getters on the Idol site… or something. I don't really know. What I do know is that we will be subjected to saccharine lyrics about following your dreams and reaching for the stars. And what do you know, Cook's picked a tune called "Dream Big." Oy. But wait, he's playing guitar, and though the cheesy lyrics are in full effect, they are fairly effectively hidden behind pretty decent music. And Cook sounds great, as always. Randy didn't love the song but thought David was "singing his face off." Paula loved it (as she did everything last night). Simon didn't think it felt like a winning moment for him. I really hate this part, because David shouldn't have to lower himself to sing this tripe, but it's what he had to do. He picked what must have been the least offensive song and made it work for him. When will they allow real songwriters to do this job?
They have all these guest mentors, why not let one of them do the honors? Neil Diamond knows his way around a lyric and melody, you know what I'm saying?
I have no doubt that Archie chose the schmaltziest song in the bunch. It's called "In This Moment" and it's just like every other coronation song from every other season: horrible and mawkish. And David sounds… not good, all screechy and shouty. Randy, who has proven every week of this season that he is a complete waste of space and needs to be replaced, said David was in the zone. And also, you know the phone book? Well, David can sing it, just in case you weren't paying attention the 99 million other times he mentioned it. Paula said Davy was on fire. Singing that song? I'd say he was more like the wet blanket that squashes the fire. Simon said Archie chose the better song and called the round for him. Ugh. Now that we're down to just Cook and Archuleta, the differences in their styles are even more glaring. Cook knows how to work that crowd. He's sexy, vulnerable and confident, all at the same time, and his connection with the audience is potent. Archuleta is a younger, poor man's Josh Groban, white bread and soulless. There's just no comparison.
Round 3, contestants' choice. Cook went with "The World I Know" by Collective Soul, and truly, he was perfection, just electric. And then he's tearing up. Oh, Cookie. Randy liked it and Paula gave him a standing O. Simon called him one of the nicest, most sincere contestants the show has had, but thought it was the wrong song choice and that he should have gone with "Billie Jean" or "Hello." Unfair! This is how you treat someone who refuses to rest on his laurels and actually works hard for the money? And then Archie, who goes to the non-trouble of rehashing "Imagine," gets fawned over by all three judges, who crown him the best singer of the season. Knowing that Cowell wants Cook to win this thing, I have to believe that all his kowtowing here was meant to fire up Cook's voting bloc. And it better have worked. Me want Cookie!!"