NEWS
IDOL Roundup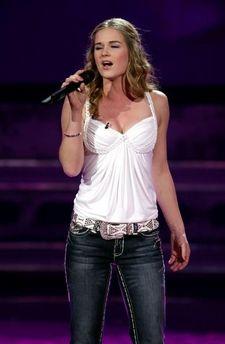 TV Fanatic breaks down your fave show of the night: American Idol!
American Idol: "The best thing about last night's show? Hearing my Idol crush David Cook announce he was very much single (though I think that may be news for So You Think You Can Dance's !).
The rest of the night was filled with basic Idol elimination fodder. Now that we're down to the last seven contestants, Idol is taking that cruel approach of dividing the contestants into groups: one of which will be safe and one not. Jason Castro is in one group, David C. is in another. Well, we know after his highly praised and emotional breakdown after his performance the night before, David C. ain't going anywhere, sorry Jason!
Article continues below advertisement
Season five finalist Elliot Yamin gives a performance. He looked and sounded great, then we learn that his mother, Claudette, has passed away. I've spoken to Elliot on several occasions and he's always given his mother the praise for making him the man he is today. She will truly be missed.
Jason is joined by Syesha Mercado and Carly Smithson; Brooke White and Kristy Lee Cook join David. It seems like the groups are set. Then Ryan throws in a curve ball and plays musical contestants, switching Syesha and David's sides. Sneaky producers! Poor David Archuleta is brought out and after learning he is safe, told to go stand with the side he thinks is also safe. Why do they keep doing this? Do they really expect David A. to pick a side, then go back to the green room after the show for the two who were in the lowest voting pool and say, "Sorry guys, but you really did seem like losers?" So David A. did what many Idols have done in the past: he sat in the middle of the stage. And like the leader of a Mean Girls' pack, Ryan leads David C., Carly and Jason over to David A., telling him he would have to choose this group as the safe ones because they are. (It was kind of cute when David C. sat down next to David A. Your final two, anyone?)
So it's down between Syesha, Kristy and Brooke. Syesha was actually safe and left the stage. A blonde is going home. Ryan asks the judges who they think it will be, but only Simon says bye, bye Kristy Lee, your time is up. And it is. Kristy's eliminated. She takes it in stride. She sings again, playing on the words of trying to get a good comment at last from Simon. And hey, with all the pleading that happened tonight, she just may be able to get her horse back!" – TV Fanatic