NEWS
IDOL Roundup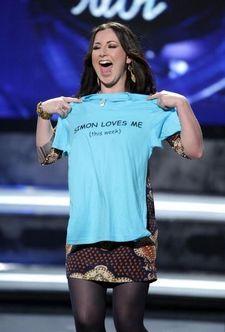 OK!'s Elizabeth Herr breaks down your favorite show of the night: American Idol!
"I am perhaps the most anti-Andrew Lloyd Webber person you will ever meet. Cannot stand his schlocky oeuvre, so, no, I was not particularly psyched up going into the show (this is getting to be a running theme, I know). It's been three years since the last Broadway night, and you want to know why? Because it was an unmitigated train wreck. That being said, ALW, in the opening package, told us he was all about helping the contestants interpret the songs to their best advantage, so perhaps he'll end up being the most constructive guest mentor of the season.
Article continues below advertisement
Syesha Mercado was right in her element last night with "One Rock 'n' Roll Too Many" from Starlight Express (yes, the one with roller skates). She was thrilled to have an excuse to be theatrical, as if not having one has ever stopped her before. But ALW first wanted to see how she'd sing it naturally. As you can probably guess, her "natural" style is exactly as much of a put-on as her theatrical style. Syesha has no soul. The performance itself was quite good, but felt like an audition for a Broadway show (that no one's actually casting). Randy loved it, thought it was her best performance to date. Paula agreed with ALW's assessment that Syesha would bring the house down. Simon thought it was sexy and said she showed massive personality (but is it hers?). He could tell she was much more comfortable in this arena, but didn't know if that was a compliment or not. Well, if she's hoping to win a contest that purports to crown the next pop star, then no, it's not.
Jason Castro was nervous because musicals are not his thing. You don't say. Considering what happened with Carly later in the show, I really wish ALW would have steered him away from "Memory." When you've got me longing for Betty Buckley's diva belting, you know it's not good. This was written for a big voice, and Jason don't got it. He looked like he was in physical pain singing this (an assessment with which Simon agreed). Proving she can't sustain coherent thought for more than a week at a time, Paula actually called this a wise choice for Jason, saying he put his stamp on it and made it sound like a pop ballad. A thousand times no. Simon, as is his wont, hit the nail on the head, saying Jason came across as a young guy being forced by his parents to sing at a wedding he didn't want to be at. Also, confidential to the tweens down in front: What's with the constant hand waving during the slow numbers? Who does that? Give it a rest.
Article continues below advertisement
Brooke White copped out a bit by choosing "You Must Love Me," the song written expressly for the movie version of Evita. ALW endeared himself to me a teensy bit by awesomely noting that she didn't have a clue what the hell she was singing about. FINALLY! I've been waiting for someone on this show to point that out (not about Brooke specifically, but about the contestants in general). He remedied it by clearly explaining the song's meaning to her (and, um, touching her a lot). And then Brooke went and… forgot a lyric at the start of the song and asked the band to begin again. Not her proudest moment, but she did what she had to do, and at least it happened right at the outset, where she could still take the do-over. In taking it, however, she completely threw herself off. She was certainly emotional, but not necessarily for the right reasons. Oh, Brookie. Randy liked that she listened to ALW and got the vulnerability but thought it was rough vocally. Paula seemed personally offended by the start-stop-start. Can it, Abdul: Brooke's not an over-rehearsed show-dog robot like someone I could mention (who also <cough> forgets lyrics <cough>!). Simon thought the whole thing was uncomfortable, but to his credit, he said if he'd been in Brooke's shoes, he'd have started over too. It's clear she's in serious trouble going into tonight, and if this does end up harming her, that's a fitting sing-out she's got.
"Think of Me," from my most hated show, Phantom of the Opera, is another one of those songs written for a diva, and ALW couldn't imagine a boy singing it. Well, David Archuleta's a divo, does that work for you? ALW loved that he had such a clear idea of how he wanted to do the song, but that whole closing-his-eyes-while-he-performs thing? Not so much. He basically commanded David to open up those peepers, and truth be told, it was a struggle for him throughout the performance, which was hilarious because he looked, no pun intended, hyperaware of it the whole time. The song itself? Oh, it was an Archuleta special, transformed into the yuckiest kind of boy band song. I will say, though, that up to that point in the show, he was the only one to really bring his chosen song firmly into the pop idiom. Randy, predictably, pronounced it "da bomb," and Paula, of course, found it perfect. Simon thought it was pleasant but forgettable, one of his weakest performances, but then admitted it would still get him through. Why you gotta play me that way, Cowell?
Article continues below advertisement
Carly Smithson started out with "All I Ask of You," but ALW, bless his heart, put the kibosh on that right quick because, he said, it's not the song for a girl with a great big chest voice. And also because she sounded horrible. That second part might have been in my head. And honestly, why didn't he take this tack with Castro? Anyway, he got her to do "Jesus Christ Superstar" instead, and as a result I thoroughly enjoyed Carly this week. It was so refreshing to hear her mix it up and ignore the call of the big ballad. This was actually fun, and she looked great, all '70s retro. The judges didn't go crazy over it, but they all liked it, and Simon called her one of the best of the night. Then Ricky Minor handed her a shirt that said "Simon loves me (this week)." Unfortunately for Carly, the stunt came across less cute than desperate.
David Cook grew up doing musical theater. Is he for real? First he's a word nerd, now he's a theater geek. We need to be married immediately. But I was still worried about him singing "Music of the Night." Would this be a horrible disaster or a triumph on par with "Hello"? Before we get to the verdict, let's talk about ALW's egregiously creepy session with him, which included the Brit uttering the words "sensual" and "sexy." Ick. Then he advised David to pretend he (that would be ALW) was a 17-year-old girl and to sing the song directly to him. With apologies to Dolly Parton, this is all wrong and it's all wrong. And also, Lord Andrew, in this country, 17 is still jailbait. David was appropriately freaked out by the whole encounter. Okay, so the song started and I wasn't sure; it seemed to be going to the bad place. But then it did exactly the opposite. He let go of his rocker instincts for the evening, and it worked, especially when he hit the big power notes in the middle and at the end. Once again, David made me enjoy a song that I otherwise abhor. He is magic. Randy and Paula loved it unconditionally. Simon said he made the most of it but prefers his grittier, rawer style to the smooth vocals he had on display here. I don't disagree, and yet, this was a phenomenal.
Why did the judges wait until the end of the show to break out the Phantom masks? I would have paid cash money to see them wear those for the entire hour. Tonight's bottom three: Brooke, Jason and Syesha."