NEWS
IDOL Roundup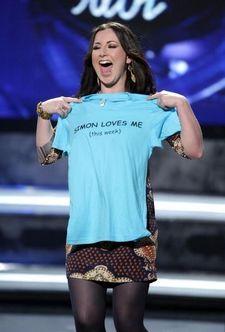 TV Fanatic breaks down your fave show of the night: American Idol!
"Unlike Elizabeth, I'm a Broadway baby. So imagine how hard it was for me to sit through the final six as they murdered Andrew Lloyd Webber's masterpeicer in the opening medley. And I really needed something to pick me up after seeing Ryan kiss Simon on the forehead! Maybe Little Miss Sunshine (Abigail Breslin), who is sitting in the audience could teach them a few moves to jazz up that horrid group performance. ALW has a quick chat with Ryan before the elimination gets underway. I think I would pee in my pants if I was sitting across from ALW and he was giving me advice on how to pull off "Unexpected Song" from Song and Dance. Oh, goodness, I hope they have that on the roster on when I go karaoke next week! Brooke looks majorly pissed when they bring up her stop & start song fumble from the night before. And ALW isn't being kind for the cameras; he scolds Jason Castro for choosing a song designed for a femal ediva. Let's just ask Betty Buckley (who tore up "Midnight" in the original Broadway production of Cats) how she feels about Jason's performance, okay? Yep Jason, it was a bad choice, and if you're in the bottom three, that ain't no surprise…
Article continues below advertisement
I have a tendency to accidentally fast forward through the Ford commercial, so tonight I made a genuine effort to watch it, and it was an A-ha video. Sweet!!! While it's still weird to see political pundits like our President making a statement on a reality series, 38 million eyeballs ain't nothing to sneeze at!
Talk about getting the nerves riled up off the bat, they start off with the two guys most thought to make the top two, the Davids. After torturing them on the stage for several minutes, Ryan revelas that are both safe. Duh, yeah, of course they are!!!
The elmination breaks as we ease on down Broadway lane with Tamrya Gray and Clay Aiken, both currently performing on the Great White Way. Elizabeth is cringing; I'm thinking how I can hook up free tix for Rent and Spamalot! X-factor winner Leona Lewis takes the stage, and shows the contestants how an Idol is born. She reminds me of J.Lo, with the singing chops.
As soon as they brought Brooke White and Syesha Mercado out together, I knew Brooke had earned sympathy votes and would be safe. Ugh. She couldn't get through her first note, SEND HER HOME people!!! Random thought: where does Simon get his teeth whitened? They are soooo bright! Jason is announced safe next, so it's between Carly Smithson and Syesha. Who is going home? You sang "Superstar," but obviously it's not a title you're going to earn in this competition, Carly, who's ousted tonight. But I do think when she's puts out her next album, a lot more than 300 people will buy it!"