NEWS
Idol Roundup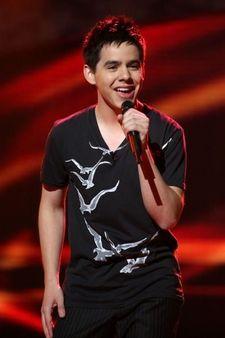 TV Fanatic breaks down our fave show of the night: American Idol!
"Host Ryan Seacrest gets thing rolling by begging us to vote tonight. Worried about ratings there, Seacrest? Don't worry, you'll be employed for a long time! Ike Turner created rock and roll. Don't remember learning about that in the film What's Love Got to Do with It.
David Cook starts things off. I'm a huge Duran Duran fan, and he's chosen to sing "Hungry Like the Wolf." His performance left me kind of… hungry. It was aiirght, but there was nothing truly meaty about it. David admitted as much before his second choice "Baba O'Reilly" by The Who. David's not at his peak tonight. The second song is better than the first, it's still not ah-mazing. But Simon tells him he's back, which is enough to keep him from being the usual fourth place elimination shocker that usually happens on Idol.
Article continues below advertisement
Syesha Mercado is desperate to be a soul diva, so she picked Tina Turner's "Proud Mary," which she says has been covered "100 times." Yeah, if you know that, why make it 101, SM? She doesn't have Tina's strong vocals on the song at all, but she does have Tina-like legs. Work it out girl! Simon says it's a bad, shrieky version of the original. Let's be honest. He was right. Her second song "A Change is Going to Come" by Sam Cooke isn't very good either until the last note. But if that doesn't push her to the final three, her heartfelt, tear-stained speech afterwards, along with Simon's praises, might do it.
(Sidenote: Umm, which contestant was the scary head mask Ryan held up?)
Jason Castro has actually stated he's ready to go home. I'm all for giving people what they want. "I Shot the Sheriff" seemed like the perfect song choice for the surfer singer, but the performance, ugh! A little strained and desperate, in the sense that he's begging us NOT to pick up that phone. And his second song, Bob Dylan's "Mr. Tambourine Man," he forgot the words! And copped up to it! Did he do it on purpose? We'll never know (until he comes to the office next week!).
Article continues below advertisement
I hate to say that David Archuleta's first song, "Stand By Me," was the best of the night, but hey, right song, good vocals and sheer drive to win equals hot performance. So I gotta. Damn. On his second song, "Love Me Tender," why did the camera get so close to his face? I don't want to be seduced by a 17-year-old boy! But it was very sweet and nice – a couple of missed notes, but it's definitely enough to sail him through – the final two. And Simon seals it by telling him that he crushed the night's competition.
Jason should go home. I can only hope…" – TV Fanatic