NEWS
Idol Roundup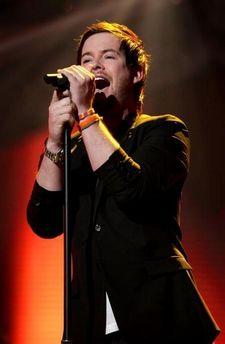 OK!'s Elizabeth Herr breaks down our fave show of the night: American Idol!
"It's Top 3 night, and you know the drill: three songs, one chosen by the judges, one by the contestants, one by the producers. Fasten your seat belts, it's going to be a bumpy night.
David Archuleta is home in Utah, and Mayor McMoustache tells him he'll be singing "And So It Goes" by Billy Joel, chosen by Paula. Okay, Ms. P, that was a good choice, and very in keeping with young David's balladeer style. In the pre-song chat with Ryan, Archie is eerily subdued, like he doesn't know what to say without his father feeding him lines. Man, that whole stage-dad thing is so creepy and makes you wonder if the kid really even wants this for himself. So, he starts a cappella, and you know, it's not half bad, and certainly his best performance out of the three he did. Randy loved it (duh). Paula loved it (duh). Simon found it predictable (duh, and thank you).
Article continues below advertisement
Syesha Mercado's in Tampa, by herself in a limo. Does no one in the whole state of Florida have time for the poor girl? Randy wants her to sing "If I Ain't Got You" by Alicia Keys, and she brings her A-game, both vocally and sartorially. Randy's all praise, thinks she's peaking at the right time (then you might want to cover your ears for her next two songs, dawg), and then gets bent out of shape when Simon says he wishes Randy had chosen something where Syesha wasn't going to try to ape the original. Point well taken, and yet, I still maintain that she did okay with this.
David Cook's in Kansas City, appearing on his local TV station, when Simon just happens to text him (not planned at all, no way). Simon has picked "The First Time Ever I Saw Your Face" by Roberta Flack, and David looks scared witless; I did too when I heard about this a few days ago. And then I got curious about just what the hell he'd do with it. The answer: bring the house down. He starts all sweet and pretty, then goes to town wailing. His mom is in the audience, all proud and tearful. Perfect. Randy, still in pissy baby mode over Simon's previous comments, wishes Si hadn't picked something so wussy, because he prefers Cook rocking out. Stuff it, Jackson. Paula loved it because, well, she wants to jump David's bones. Simon calls it one of his best performances to date and declares round one for Cook and Cowell. I'm really happy these two were paired up — I think Simon's the only judge who truly gets what the guy is capable of. Cook adorably winks at his mom in the audience.
Article continues below advertisement
For his second song, Archie has chosen "With You" by Chris Brown, in the interest of giving something new a try. Would Dad have approved? And did little Archie actually sing the words "my boo"? I'm sorry, but he is too white for this song. Randy applauds him singing something different, but takes issue with that "my boo" business. Ha. Paula sees absolutely nothing wrong with him singing a song like this. Oh, dear. Simon's just happy he didn't do yet another "shrieky ballad," but still thinks it was "like a Chihuahua trying to be a tiger." That's a new one, Cowell, and me likey.
Syesha's pick: "Fever" by Peggy Lee. There is a chair in the middle of the stage that she will be using to "enhance" her performance. Oh, lord. You are NOT fricking Catherine Zeta-Jones in Chicago. She's all with the fake sexy (fauxy?), and her desperation is coming off her in waves. The most hilarious part: After all the chair buildup, she barely even touches it. Randy loves it, because he is not so bright. Neither Paula nor Simon are into it, however, the latter pronouncing it a lame cabaret performance and telling her she'll regret it in the morning.
Article continues below advertisement
Cook picked this sort of annoying Switchfoot song, "Dare You to Move." I don't loathe it completely, but I feel like I've heard it a billion times, and it's definitely not what I would have chosen for him. I'd love him if he sang the phone book (to use one of Randy's constant, annoying refrains), but this was nowhere near his best. Also, it feels horribly short. This happened last week, too, where all the other performances seemed to go on forever but David's lasted for a split second. Paula and I actually agree on this point — she says the second it got to the good stuff, it was over. Simon is uninterested and doesn't think anyone had a good second round.
Now on to the producers' choices, which basically serve to show how out of touch they are and how little they know about these contestants, or contemporary music in general. For Archie they chose "Longer," an ancient Dan Fogelberg tune that I haaate. Blech. Randy seriously needs to cut it out with this ridiculous "another hot one for you" dumbassery. There was nothing hot about what David just did there. Simon's down with the vocals but can't abide the gooey lyrics, which he had no interest in hearing from the mouth of a 21st-century teenage boy. Sing it, brother.
Article continues below advertisement
For Syesha, the producers chose "Hit Me Up" by Gia Farrell. I've never heard of her or this song, and I feel like the choice was totally calculated to bring Syesha down, number one because no one knows it, number two because her voice is all wrong for it. Paula shocked me, and probably the entire viewing audience, by telling her it wasn't good enough to get to the finals. Has she ever said that to anyone? My mind is blown! Simon was looking for a defining moment from her, and this wasn't it. He says her best moment was the Sam Cooke song last week, but come on, that was less about the performance than it was about the desperate crying AFTER the damn performance. Syesha's gone, there's no question.
And just what have the producers chosen for the supremely talented David Cook? Oh, you know, just a played-out, horrible, treacly mess called "I Don't Want to Miss a Thing," the same song they invariably end up choosing for one of the top 3 every year. Stop the insanity! Ugh. If anyone could make me tolerate this, it would be Cookie, and he didn't disappoint. Again, it's not on par with his best (that would be "Hello" and "Billie Jean," and even "Always Be My Baby"), but it is enough to prove that he deserves to win this whole thing. The song's writer, Diane Warren (who is neck and neck with Andrew Lloyd Webber for the title of schlockiest of all time), is in the audience and going crazy over the performance. Randy still hasn't gotten over Simon dissing him at the beginning of the show, and decides to take it out on David, calling the performance predictable. Oh, God, what did you want from him? He didn't choose this dreck. There's only so much you can do with a crappy song. Paula says she'll see him in the finals, and Simon maintains that David Cook has won the night. Damn straight! Oh, Cookie, please come visit the OK! offices after you win so I can club you over the head and drag you back to my apartment — I mean, shake your hand. "