NEWS
IDOL Roundup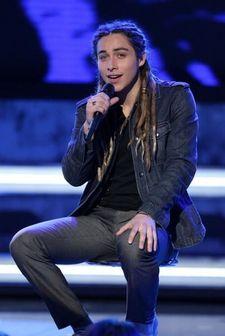 OK!'s Elizabeth Herr recaps your fave show of the night: American Idol!
Michael Johns may not have been on stage last night, but he was in our office yesterday afternoon, causing everyone — men, women, children, inanimate objects — to freak out. OK! has played host to a number of celebs in my time here, but I have never reacted to any of them the way I did to MJ. A crazed teenybopper took over my body, and I'm a bit embarrassed by that, but what are you gonna do? I defy anyone to remain calm in the face of a hot Australian. He wasn't wearing an ascot, by the way, and told me he'd worn the one during Dolly week at the suggestion of the show's stylist, since he wanted more of soulful look. In his own words, he was going for a cross between Tom Petty and Scott Weiland. Ha! So, anyway…. Ryan played up Michael's elimination. None of your favorites are ever truly safe, blah blah blah, VOTE! Also, Minnie Driver, Teri Hatcher and Ramiele were in the audience if anyone cares.
Article continues below advertisement
I'm not a huge Mariah Carey fan, but even I can respect her huge voice, and I take issue with the contestants being forced to sing the songs of an artist that no one on this show before has ever even come close to matching vocally (Kelly Clarkson is probably the only one). The odds of any these eight out-singing Mimi was slim to none, so the deck appeared to be stacked against all of them. Going in, the whole thing seemed like an exercise in disaster to me, but it ended up not being as bad as I'd predicted.
I continue to find David Archuleta weird. Mariah went to give a hug, and he didn't even lean into it. Awkward! I'm sensing major intimacy issues. Regardless, MC loved him, so I guess it's a good thing she wasn't there to see him in those leather pants. Ugh. Do. Not. Want. They made it really hard to focus on his actual singing. "When You Believe" was technically fine, though he had a little trouble with the low notes at the end. Randy went back to that "boys singing girls' songs" thing, which, if you hate it so much, don't make them do it. What other choice did they have last night, Randy? Oh, the stupidity. Simon, along with everyone everywhere, knew David would pick that song. What gave it away? It was the message, wasn't it?
Article continues below advertisement
Carly Smithson was emotional over MJ's exit and said it's been boring all week without him. I think she just misses his pretty, pretty face. And then she was up there doing "Without You," which, again, the entire world totally called. I did not outright dislike this. It started really well, with Carly in her lower range, all low-key and subdued. Did she maybe read my recap last week? Paula was impressed that she showed vocal restraint at the beginning before commencing with the belting. I agree! Paula said something coherent! Simon really wanted Carly to sing this, even before they knew about Mariah week, but he didn't think she nailed it. I don't know… she came close, even if I still feel nada from her.
Syesha Mercado picked a song, "Vanishing," that I'd never heard and that, we were told repeatedly by the judges, is not so well known in general. Week after week, she's chosen these high-degree-of-difficulty ballads, which have rarely worked to her advantage. This, though, was more hit than miss. Simon thought she was technically good but felt that performing an unknown song could hurt her. I don't see how that matters. If it's a good song (it is), sung well (it was), who cares?
Article continues below advertisement
Poor Brooke White had to miss her sister's wedding because of Mariah. She tried to order a cardboard cutout of herself for her family to use on the big day — so cute! — but couldn't find a place that made them. Aw! For last night, she went with a deconstructed, piano-only version of "Hero," and Mariah really liked the brand-newness of it. Me too, a lot. It was real, a little bit raw and it didn't make me think of the original. Randy felt her start to lose confidence at the end and, yeah, I have to say, she did look a little shaky. The camera was really close up on her, and she seemed to be tremoring a bit. Simon called it akin to ordering a hamburger and only getting the bun, which then led to all three judges getting carried away with meat metaphors. God.
We must have reached the end of days, because Kristy Lee Cook sounded good on "Forever." What is going on here? Paula clearly couldn't believe she pulled it off, and hey, I feel you, lady. Simon panned it, and though he and I are usually of one mind when it comes to Kristy Lee, I've gotta disagree with him here.
Mariah was surprised that David Cook chose "Always Be My Baby" because she didn't know what he'd do with it. Join the club, Mimi. Also, wouldn't any song of yours that he chose be surprising? He was so much better than last week, but it was still weird for me, I think because I don't want to hear him singing Mariah Carey, no matter how much he reworks it to fit his style. Within the confines of the night, he was good, but this was not his most amazing performance ever, and he took way too long to do that wail thing he does so well. And yet, Randy gave him a standing O, the first time he's done that this season, he says (I honestly can't remember if that's true). He feels that more than anyone on the show, David is ready to make an album right now, and that I do agree with. Paula said this version could be on a movie soundtrack, and again, yes. Simon faked us out ("It was like coming out of karaoke hell") before calling the performance a breath of fresh air. And then David cried! His brother, who has brain cancer, was there in the audience — they medevacked him in for the night. The cynical side of me wonders if that's why the judges went so heavy on the praise. That's horrible, I know, but I wouldn't put it past them.
Article continues below advertisement
Jason Castro closed us out, and I think his "I Don't Want to Cry" was my favorite of the night. No guitar this week, but he really nailed it. It was actually kind of hot, and that's the first time I've ever said that about Jason. The arrangement was top-notch, seriously. Randy, dipping into Simon's big bag of metaphors, said it felt like being at a weird beach luau. Yo, dawg, that was weak. Doesn't matter anyway, Paula and Simon dug it.
I really can't point to any one performance that flat-out sucked this week. Carly will probably be in the bottom three, but beyond that…. It's nowhere near assured that Kristy Lee will be there with her, but Syesha might, and maybe Brooke as well." — Elizabeth