NEWS
'Idol Was Too Much To Handle,' Says Jason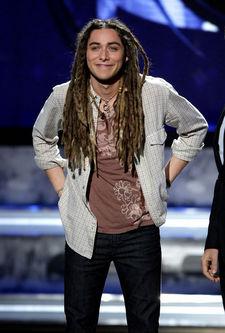 Jason Castro thinks that his lack of experience was both his biggest strength on Idol, and what got him kicked off the show.
Today, the rookie singer said that his raw talent made him "what the show was originally about" - but that once he started having cope with two songs each week, he was out of his depth.
In fact, while he says was still trying his hardest to win the contest on Tuesday, the pressure to perform became so great that he was overjoyed to leave yesterday.
Article continues below advertisement
"I was as happy last night as I was when I found out I'd made the Top 24," he said. "This whole time I have had a blast, but it's just really been hard. And I remember, before we found out the results last night, I was just thinking I was starting to fear the week ahead: 'how am I going to do three songs? I can't even do two right!"
"I was ready for the result to go either way, whatever they gave me. And when they gave me the news he had been eliminated, my natural reaction was that I felt relieved. The pressure was off and I loved my time on there and I would like to go further, but I don't think I could handle it."
There has been speculation, from Simon Cowell amongst others, that Jason had already thrown in towel before Tuesday's Rock 'N' Roll Hall Of Fame-themed performance. Jason has already had to
"Yesterday I wanted to win, and the day before." The problem, he says, wasn't a lack of conviction. "I think it came down to my inexperience."
Jason (who, incidentally, confirmed that he does have a girlfriend in Texas) has been banging drums since he was a baby, but had only sung in public four or five time before he auditioned for the show.
Article continues below advertisement
Meanwhile, he is the first contest to be voted off since Ramiele Malubay -- who made ninth place six weeks ago -- who has neither recorded an album or appeared on a national TV talent contest. The rest of the Top Eight had at least one album or show under their belt.
The 20-year-old from Rockwall, Tx., however, says he had never even learned a song from beginning to end before the semi-finals (except, presumably, in choir).
When they hit the Top 5, the Idols had to start singing two songs a week rather than one - and that's when he started to struggle.
"Once we doubled up on songs, I wasn't really able to focus on both songs. My mind was just split, and I just couldn't deliver either."
It got to the point two weeks ago when Simon Cowell said the judges weren't watching the same Jason they had brought into the competition.
Article continues below advertisement
"I was feeling the same thing," admits the former student. "I was feeling me losing that power, just because I couldn't connect with the songs given time. I really had a hard time when we picked it up to two songs."
This week, the judges savaged his first song, then forgot the chorus to the second -- which wouldn't have been so bad, had it not been one of the world's most famous songs, Bob Dylan's Mr Tambourine Man.
"When I got up on stage that day, it was really rushed and I had barely sat in my seat and they told me to go again," he explains. "My mind was just in a blur. I kind of forgot where in the chorus I was, so I didn't know which ending I was supposed to be doing."
So why did the judge pick him along with a field of such seasoned performers?
"I think it was the potential. And just because I was so new about it," he said.
"I'm very much about what the show was originally about. I am as raw as it gets."
Now, though, Jason, who has already said that he won't be going back to Texas A&M University, says that he is sticking with show business, but is characteristically vague.
"Wherever the music leads me. I just want to play some music somewhere!" he said.