NEWS
Idol Watch: Alexis' Fall From Grace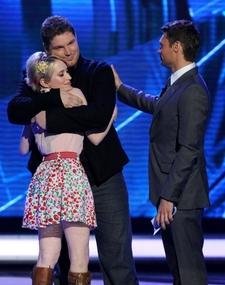 There's one thing we can say about American Idol's new "Judges' Save"---it sure makes for some good suspense and, we're sure--good ratings. But is it really being used in the best interests of the Idol contestants?
On Wednesday night's live elimination show, Ryan Seacrest told the petite, pixie-haired Alexis Grace that the judges were considering using their "save" to keep her on the show. America had voted her off, but now she had one last chance to keep her spot, by singing her final song for the judges. As she belted out the words to Dolly Parton's "Jolene" Simon Cowell, Paula Abdul, Kara DioGuardi and Randy Jackson huddled together, whispering just feet from where Grace stood performing.
Article continues below advertisement
When she was done, Ryan asked Simon to announce the judges' decision. "It was unanimous," Cowell said, pausing dramatically before saying, "but it was not good enough. It's the end of the line for you." It was a shocking decision--partly because all four judges really made it seem like they were going to keep her on the show.
It's hard not to wonder how any contestant, aware that their final song is their only chance of not going home, doesn't crumble under the pressure with the four Idol judges huddling and hissing opinions directly in front of them.
On a lighter note, there was a much happier vibe on set this week as opposed to last Wednesday's first elimination round. Simon and Paula were back to their old tricks. The two were almost late to their chairs as the producer counted down the last seconds back from the break and as Paula went to sit down, Simon pushed her chair in so that she couldn't get into it. What a jokester!
And it looks like Idol favorite Adam Lambert has his first groupie! During the breaks, a 10-year-old girl in the "mosh pit" kept staring at him and grinning until finally he agreed to sign an autograph for her. Even the audience seemed more amped up than usual. Two different cheerleading teams were in the crowd and entertained during commercial breaks with their competing routines.
And who could forget a live performance from country music star Brad Paisley along with a duet by Carrie Underwood and country legend Randy Travis, which brought this week's Grand Ol' Opry theme to an end.
So it's bye-bye Alexis, but hello to next week's top 10 Idol finalists.
By Katie Rhames