NEWS
Idol Watch: And Then There Were 11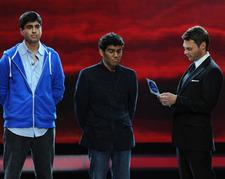 Before this eighth season of American Idol began, the producers of the hit show promised they were going to shake things up. And, for better or worse, they're doing a good job of that already in just the first round of the finals.
Thirteen finalists came into Wednesday's live elimination broadcast, but at the end of the evening, only 11 were left standing.
At the top of the show, host Ryan Seacrest explained the new Judges' Rule, which would allow the four AI judges a one-time-only pardon to any finalist they felt the public had made a mistake in eliminating. So maybe the double elimination announced on Tuesday wouldn't happen after all?
Article continues below advertisement
The tension on-stage was already evident during the opening group sing-along, as a nervous-looking Megan Joy Corkrey lost her footing and almost fell off the stage. During breaks in the show, the contestants guzzled water and fidgeted uncomfortably on the couches while they awaited their fate.
And, where one night earlier Paula Abdul and Simon Cowell were practically playing footsie under the table, you could hear crickets chirping around the judges on Wednesday night, as they watched 16-year-old Jasmine Murray and 20-year-old Jorge Nunez say goodbye to their chance at stardom.
Following her elimination, Jasmine burst into uncontrollable tears during the break and had to be consoled by Idol producers. During their final songs, the judges swiveled noisily around the table in their chairs, whispering and conferring with each other, hands covering their mouths as Jasmine and Jorge each tried — unsuccessfully — to impress them one last time.
"It was so awful," one audience member told OK!. "It's hard enough having to perform knowing you've been voted off and then you have the judges whispering about you while you're up there, deciding whether to keep you around."
Article continues below advertisement
The silver lining in Wednesday's show was, of course, the return of the original American Idol, Kelly Clarkson, who, despite looking a bit heavy in a shimmery black leggings ensemble, killed with her live performance of "My Life Would Suck Without You." Even the normally stoic and poised Ryan Seacrest was bopping back and forth off-camera, mouthing the words to the chorus.
And then there was Kanye West, who brought the house down with his hit "Heartless."
Between eliminations, Simon couldn't get off the set fast enough, while Paula and fellow judges Kara DioGuardi and Randy Jackson lingered during breaks to talk to fans and the contestants' family members.
So was Simon feeling a bit guilty about eliminating two finalists?
"Oh no," a source close to the show told OK!. "He was probably just going to his trailer or to hair and makeup. There's also craft services backstage."