NEWS
Idol's a Family Affair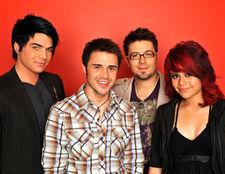 It's been a long time now since the American Idol contestants left their normal lives behind and were whisked up into the whirlwind that is the show.
So how are they maintaining a little of the comfort of home while they're away from home?
As a minor, Allison Iraheta has her mom, Sara, for a roommate. "I have moral support," the 17-year-old from L.A. says.
As the competition grows more intense, Adam Lambert, 27, admits, "I find myself indirectly taking a big brother role sometimes."
Article continues below advertisement
Still, with three remaining male contestants, including Kris Allen, 23, all living in a mansion, "it hasn't gotten crazy," says Danny Gokey, 29.
The competitors are getting comfy in their home away from home: "It's really hard to not just zone out and kind of veg out," Adam says.