NEWS
IKEA & Celebs Join New Yorkers For Children to Spread Holiday Cheer!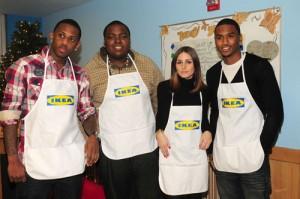 Tis the season to help others, and celebs like Trey Songz, Fabolous, Sean Kingston and Olivia Palermo were on hand, along with IKEA, to help make the holidays a little brighter and life a little nicer for foster children in NYC. The stars teamed up to assemble furniture with New Yorkers For Children at the ACS Children's Center.
NYFC is a nonprofit that supports youth in foster care, and joined up with these kind celebs to make over rooms at the ACS Children's Center. The facility is designed for children entering into foster care in NYC. The teams transformed the rooms into warm, welcoming environments intended to make the transition into care easier.
Article continues below advertisement
The makeover is a part of the IKEA Life Improvement Project, which helps people to build better lives at home and to improve the lives of others in their communities.