NEWS
I'm In the Best Shape of My Life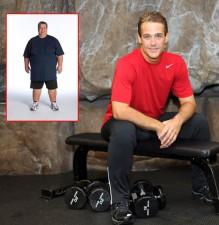 OK! asks The Biggest Loser's latest winner, Danny Cahill, how it feels to lose a record-breaking 239 pounds
When Danny Cahill arrived at the ranch to compete in season eight of The Biggest Loser, he weighed 430 pounds — and felt lost and afraid. "I worried every day that there was a heart attack looming," the 40-year-old land surveyor and musician from Broken Arrow, Okla., tells OK!. "I had a knee-jerk reaction to every pain, afraid that this was the one that was going to take my life. And that's a terrible way to live."
Article continues below advertisement
Now the devoted husband and dad weighs a svelte 191 pounds and feels more alive than ever! "I'm in the best shape of my life, better than when I played football in high school," laughs Danny. And although he is thrilled that his 239-pound weight loss marks the biggest in the NBC show's history — and earned him the $250,000 prize — he's more excited about his new lease on life. OK! met up with Danny at Crunch gym in NYC to hear about his incredible journey.
Were you confident that you'd win?
Not at first, but after a few weeks on the ranch, when I made the decision that nothing was going to stop me, then yes. I was like, "You know what? I'm going to win this thing. I can do it, and I'm going to!"
Was there anyone you were really worried about, competition-wise?
There were two: Rudy Pauls and Rebecca Meyer. I knew Rebecca would lose a lot of weight, and Rudy and I were almost always tied. He was a great competitor.
Article continues below advertisement
How has your life changed overall?
I am in New York City, doing an interview. I'm $250,000 richer. And all that's fine and dandy, but I'm going to be able to see my kids grow up! I'll see them get married, and I'll live a long life with my wife, which I was afraid wasn't going to happen.
How will you spend the money?
I've definitely got to get a new wardrobe! I bought clothes when I came home from the ranch, and when they were big in two weeks, I said, "Well, I'm not doing that again!"
Any specific cast members who really helped you get through?
My partner Liz Young was so supportive. Amanda Arlauskas was amazing, too. There was this mountain behind the gym, and I could never go up without stopping to catch my breath. So Amanda held my hand and walked with me and told me, "Just control your breathing."
What was your family's reaction?
My kids David, 10, and Mary Claire, 8 made a sign that said, "My dad is Superman!" and they held it up at the finale. My wife, Darci, wanted this for me. Not for the money — just because she knew that I wanted it so bad. I've never ever finished first. I've always finished second. This time, I said, "I'm going to go until the end."