NEWS
In The Kitchen With Jenni Jwoww Farley! Inside Her Guilt-Free Recipes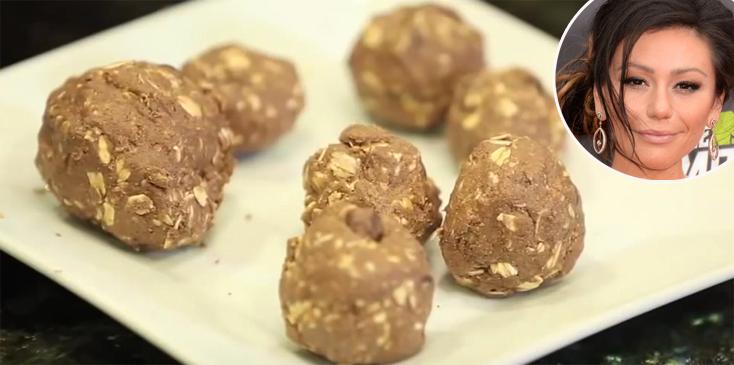 JWOWW is known for her creative ways of turning guilty pleasures into delicious healthy treats! Just like any person, the cooking star loves to indulge in cookies and cake so that's why she created recipes that taste AND make you feel good! These unique creations cut out the bad sugars and fats while still making your mouth water! When you are pressed for time and need an easy on-the-go treat, JWOWW swears by her bake-free Butternut Protein Balls!
Article continues below advertisement
Try this guilt-free recipe:
JWOWW's Butternut Protein Balls
Ingredients:
2 CUPS OF 310 SHAKE CHOCOLATE PROTEIN POWDER
2 SCOOPS OF INSTANT CHOCOLATE PUDDING
1 SCOOP OF CHOCOLATE MORSELS
2 SCOOPS ROLLED OATS
2 TBSP of PB2
1 CUP OF ALMOND BUTTER OR 1/2 CUP OF PEANUT BUTTER
Instructions:
Step 1: Combine Protein, Pudding & Morsels with Oats
Step 2: Add 1 Cup of Almond Butter or 1/2 cup of Peanut Butter
Step 3: Mix With Your hands
Step 4: Roll Into 2 Inch Balls
Step 5: Enjoy!