NEWS
"Incurable Optimist" Michael J. Fox Makes Teen's Wish Come True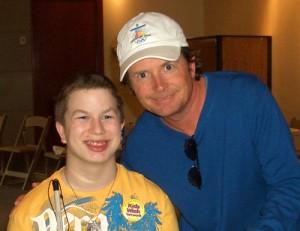 Michael J. Fox recently granted the wish of Gideon Strohaver, a 16-year-old from Michigan suffering from cystic fibrosis, by spending some quality time with him at the Central Park Zoo in NYC where they bonded over being "Incurable Optimists."
OK! NEWS: MICHAEL J. FOX — "MY LIFE IS RICHER BECAUSE OF THE HOLES"
Gideon caught Michael's "The Incurable Optimist" special on television in his hospital and his teacher referred him to the Kids Wish Network in hopes Gideon could meet his hero Michael.
Article continues below advertisement
OK! NEWS: MICHAEL J. FOX — I LOVE MY LIFE
His wish came true and his family went on a special trip to NYC. Gideon and Michael spent a day together at the zoo and Michael and his family were given tickets to the premiere screening of Shrek Forever After at the Tribeca Film Festival!
"He Michael J. Fox was so nice," Gideon's mother Kim said. "They just talked and talked as the zoo people kept bringing in animals for them to meet and pet. The one I think Michael and Gideon enjoyed most was the hissing cockroach. They both really enjoyed petting it and listening to it hiss."
OK! NEWS: MICHAEL J. FOX THE DOC
"He Michael J. Fox was just so sincere and so sweet. He even told us to call him Mike. He was just Gideon's new friend, Mike," she added. "It was a lot more than we ever expected. My daughter Olivia put it best when she said it was an 'over the rainbow wish.'"