NEWS
When Life Imitates Art! Get Caught Up On All The Real Life 'Insecure' Baby Drama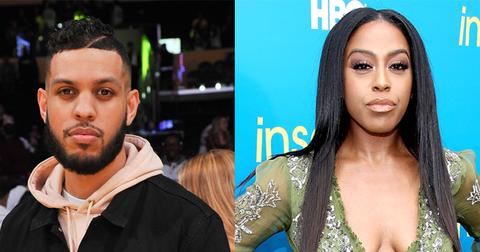 Issa Rae, grab a pen and some paper because this drama has Insecure written all over it!
Here's a tale of two co-stars who secretly hooked up, created a child, seemingly split up, and then confused the Internet with their possible love triangle/co-parenting relationship. (Stay with us).
Last month, DomiNque Perry announced on Instagram that she was expecting her first child, a baby girl.
"It's like.... I just felt like FINALLY showing you off girl," the Insecure actress captioned a shot of from her pregnancy photo shoot. "You weren't in my plans but you were in Gods plans, and for that it's insane how much I love you. Let's take over this world young Queen."
Article continues below advertisement
While DomiNque didn't mention her child's father that didn't stop fans from asking about his identity.  However, the first-time mom ignored fans' inquiries.
Fast forward to Tuesday, May 22 when the actress announced the birth of her daughter on Instagram.
""Zen".... you're so perfect," she captioned a photo of her bundle of joy swaddled in a hospital blanket. "Thank you God for appointing me the wonderful job of being her mommy ?."
*Cue plot twist
Shortly after, DomiNque shared her baby announcement, Sarunas Jackson, DomiNque's Insecure co-star, shockingly revealed that he's the father of her baby.
"NWTS ??????????," he tweeted alongside a picture of Zen in her crib.
While Saruna's shocking tweet (no one knew he and DomiNque dated, nonetheless were preparing to welcome a child together) was enough to get Insecure fans riled up, calling for Issa to "make this an Insecure storyline next season," the drama didn't end there.
Article continues below advertisement
On Wednesday, May 23, The Shaderoom reported that Saruna's girlfriend, Are You The One star Kaylen Zahara, found out about his child with DomiNque on Twitter when he told the world about baby Zen.
"Ladies listen to you intuition! These dudes will be in your crib, eating your food and laying up with you, taking you on dates, etc but got kids on the way without you knowing," Kaylen captioned an Instagram story of her commenting on Saruna's baby news. "TUH. These insecure men can't never keep it 100. Congrats tho."
A "To Be Continued" tagline seems pretty fitting right about now.
What's your take on the drama? Sound off in the comments!