NEWS
Inside 'The Bachelor Pad's' Tenley Molzahn & Kiptyn Locke's Romance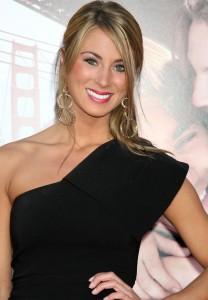 On this first season of The Bachelor Pad, Tenley Molzahn and Kiptyn Locke, have their cast members and America guessing: are they, or are they not together?
Tenley, the naïve dancer – and the runner-up on Jake Pavelka's Bachelor season – gave OK! a rundown of the relationship that developed on the hit ABC show.
JAKE MAKES A GUEST JUDGE APPEARANCE ON 'THE BACHELOR PAD'
"Kiptyn contacted me after my Bachelor season," Molzahn, 26, tells OK! "He kind of reached out to say, 'I've been in your place and would love to help you know where to go from here, or just be somebody that you can talk to.'"
Article continues below advertisement
Kiptyn, 32, was a runner-up himself on Jillian Harris' Bachelorette season, so he was more than qualified to be a shoulder for Tenley to cry on.
"Then we met at one of Jesse Kovacs wine parties in San Diego," she continues. "Then a friendship started to grow from there."
VIENNA GIRARDI GIGGLES AND GUSHES WITH HER GAL PAL
Going into The Bachelor Pad, both Tenley and Kiptyn knew they would be on show together – unlike the other popular couple of the house: Elizabeth Kitt, and Jesse Kovacs. (He kept it a secret he would be in the competition from her – until he walked into the house, and her jaw hit the ground.)
"Right when we got to Bachelor Pad, just instantly we had a great foundation in friendship," she explains. "He was looking out for me. It was definitely not good that it looked like we were dating."
Being coupled up on The Bachelor Pad immediately puts a bullseye on cast members to be eliminated, and some of them are doing their best – for their own interest to stay on the show – to makes themselves seem single.
Article continues below advertisement
POLL: SHOULD JAKE AND/OR VIENNA BE ON 'THE BACHELOR PAD'?
Molzahn says she didn't let others know she and Kiptyn were together "until they knew they were in a safer place" on the show.
After the couple has spent their own time and experienced the Bachelor franchise on their own, what have they taken away from it and applied to their own relationship?
"It could be longer lasting, because the pressure is not there," Molzahn explains. "There was a friendship, then a lot of time together on the show, and then it continued to let it be what it was without being in the limelight. Not like, 'we have to do a proposal in six weeks!'"
REP CONFIRMS: VIENNA GIRARDI IS NOT POSING FOR PLAYBOY
Well, thank you Jake and Jillian for not picking Tenley and Kiptyn as your winners, because it appears they now have seemed to found their own love with each another.
"I've always thought Kiptyn is one of the most genuine people I have ever met in my whole life," Molzahn gushes. "He's a good man through and through."
The Bachelor Pad airs Monday nights on ABC at 8/7c.