NEWS
Inside the Entourage!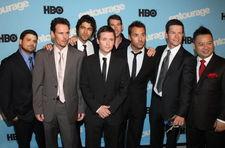 We love the glamour and the parties and gawping at all those Hollywood-hot boys and girls. But we mostly can't wait for the new season of Entourage to start tonight so that we can get our next fix of sex, scandal and general bad behavior from behind the scenes of Tinseltown.
So when OK!'s Oliver Coleman got a chance to gossip with the stars of the HBO smash hit, we just had to know what it's like behind the scenes of their own show.
Article continues below advertisement
Come on Kevin Dillon, you can tell us. Surely you and your co-stars can't really get on as well as Vincent Chase's entourage -- E, Turtle and your character, Johnny Drama. There's got to be at least a little rivalry, right?
"No," Kevin told us a New York party to celebrate the new season. "There's a lot of love between the cast members."
"Honestly, I feel like my friendship with the cast is very similar to my friendship between our characters on the show. They're really great guys and I would do anything for them."
After getting a sneak-peek at the first two episodes of season five, we can promise you all that you're in for more dynamite rants and tantrums from Vince's agent, Ari Gold. But we wanted to know if his portrayer, Jeremy Piven, flies off the handle as easily as Ari.
We figured the best person to ask has got to be Rex Lee, who plays his personal assistant -- and verbal punching bag -- Lloyd.
"He doesn't lose his temper, but Jeremy's all about creating a situation that is conducive to work. And when the details aren't all in place, that can rub him the wrong way," Rex spilled.
Article continues below advertisement
"But I don't walk on egg shells around him or anything."
As one of the only women with a regular character on the show, we asked Perrey Reeves, who plays Ari's long-suffering wife, which guys get the most attention from all those gorgeous guest stars, who have included Mandy Moore, Leighton Meester and Scarlett Johansson?
"They all get a lot attention from the girls," she confided. "They're all good looking, intelligent and talented men, but they get my equal attention. My mother taught me to share with everyone."
Everyone we talked to agreed on one thing: They have just as much fun as their characters. So what's the best bit for Adrian Grenier, who plays movie hunk Vince?
"The one thing I love about the show," said Adrian, "is that I get to try out all sorts of different characters, between commercials and Aquaman, they're the really fun days."
Season five of Entourage premieres tonight, Sunday Sept. 7 at 10 p.m. on HBO.