NEWS
Inside Hilary Duff's SVU Shoot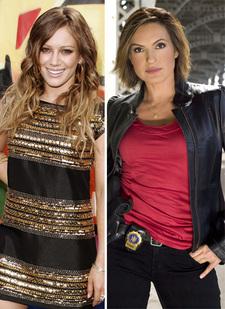 Squeaky-clean pop princess Hilary Duff will have some very racy scenes in her upcoming episode of Law and Order: SVU, according to on-set snitches.
SPOILER ALERT! Don't read on if you don't want to know what happens this season!
Production insiders on the set in NYC have told OK! that scenes will include Hil "grinding on some guy's crotch in Atlantic City," while the script reveals that she will be wearing a wet T-shirt and shown "drunk and partying in Cabo"!
Article continues below advertisement
When we got a sneak peek at the script for Hilary's episode of the crime drama – named "Selfish" – it showed Hilary plays a woman called Ashlee Walker, a hard partying young mother whose child goes missing.
Today Hil was shooting a scene with stars Mariska Hargitay and Chris Meloni, in which their characters help her to look for her child, Sierra.
They visit the home of her childminder – described by locals as "nuts" – who Ashlee believes has abducted Sierra.
But it turns out that Sierra has died from a strange and powerful virus that has migrated to New York from Venezuela. The detectives then worry that Sierra has infected other children in the city.
On day four of the shoot, they are scheduled to do a courtroom scene in which Hilary will wear a T-shirt with Sierra's face on it with the words, RIP LITTLE ANGEL printed on it.
The Amish are somehow involved.
Article continues below advertisement
The raunchy scenes are not being shot today, our source reveals. They are presumably intended to show how her partying has put Sierra in danger because she leaves her with the "nuts" childminder.
Even though Hil was picked up from her hotel at 6:15 this morning to report to make-up by 2 p.m.—dressed in a full-length North Face puffer to keep off the chilly weather—she still seemed in a great mood, chatting with crew members and smiling for the paparazzi.