NEWS
Inside Jamie Lynn and Britney's Double Wedding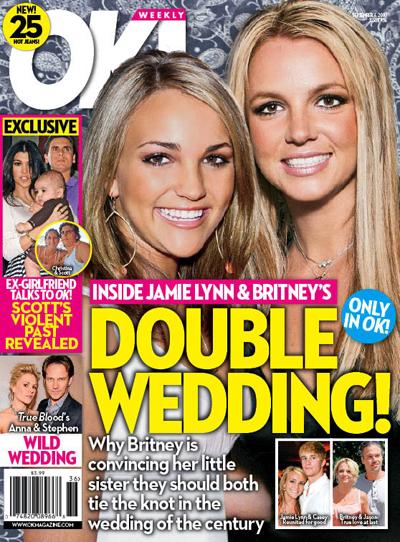 Britney and Jamie Lynn Spears: The famous sisters have hatched a plan to hold the wedding of the century! Finally settled and happy (with boyfriends Jason Trawick and Casey Aldridge respectively) Britney and Jamie Lynn recently discussed the potential details for an unforgettable double wedding! OK! has the details on what the dream guest list might be, why the girls are ready now and what the ceremony could look like!
Article continues below advertisement
Scott Disick's Secret Past Revealed!: In an exclusive OK! investigation, various sources — including Scott's ex-girlfriend — detail the shocking past of Kourtney Kardashian's boyfriend — from his controlling behavior to his sexual liaisons.
Hilary Duff: OK! has exclusive photos of the star's romantic honeymoon in Cabo with new husband Mike Comrie.
Best of the Week: Kim Kardashian debuts her sexy 2011 calendar; Ben Affleck teases Blake Lively; Mike "The Situation" Sorrentino out-earns big stars like Scarlett Johansson; Chelsea Handler sticks up for Jen Aniston — by dissing Angelina Jolie and Lady Gaga dethrones Britney Spears as Queen of Twitter!
Plus: Exclusive pics of Mad Men's Christina Hendricks modeling in London Fog's new campaign; Britney Spears on the set of Glee; Jennifer Garner and Russell Brand share beauty secrets; Catherine Zeta-Jones stands by husband Michael Douglas; Rob Pattinson and Kristen Stewart share a love nest; True Blood stars Anna Paquin and Stephen Moyer wed; an exclusive look at the cast of the new season of The Apprentice; Jen Aniston wants to move back to NYC and a Fall fashion denim blowout featuring Entourage's Autumn Reeser!