NEWS
Inside Kim Kardashian's Bridal Shower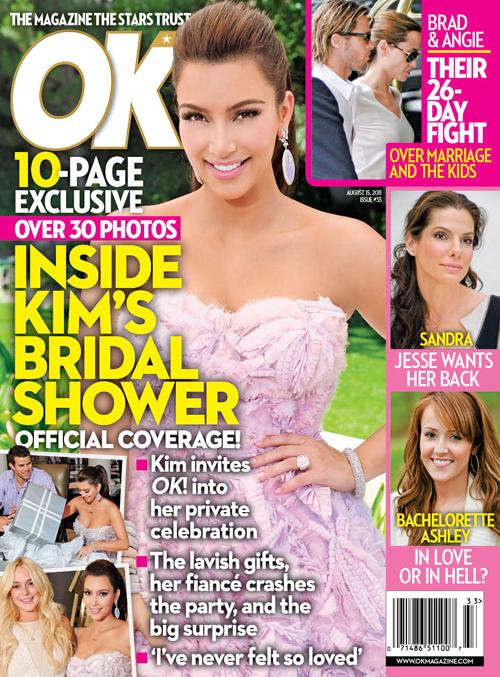 Kim Kardashian: The reality star had a beautiful bridal shower and OK! was invited! In this issue, you'll see more than 30 photos of Kim's glamorous, flower-inspired gown, her luxe gifts, her gourmet menu, the serene party setting and the surprising, star-studded guest list compiled by her mother, Kris Jenner, and generous sisters. Plus, find out what happened when groom-to-be Kris Humphries made an appearance!
The Bachelorette: Ashley Hebert chose J.P. Rosenbaum out of a total of 25 suitors — but is she in heaven now or hell? Learn more about the formerly "roasted" Bachelorette, and read previews of the latest Bachelor Pad.
Brad Pitt and Angelina Jolie: After not being photographed together for 26 days, Hollywood's "first couple" may be in a bitter standoff. Find out what each half had been up to — plus, more shots of Brad with his "mystery woman" in London!
Jesse James: Friends of Sandra Bullock say that since Jesse's recent split with tattoo artist and reality star Kat Von D, he's been calling Sandra much more frequently. Could he be crawling back to his ex? Also, how Kat felt about the split and her TV walkoff.
Fashion and Beauty: OK! shows you how to wear candy-colored tresses like Carrie Underwood's and try out summer's colorful new makeup looks. Also, advice from Victoria's Secret supermodel Candice Swanepoel and style tips we've learned from the stars.
Article continues below advertisement
Plus: OK! lists the top 10 celebrity spenders from Oprah Winfrey to Johnny Depp; Interviews with Jessica Alba and Tori Spelling, on motherhood and accessories, respectively; Experts debate whether it's okay to leave a large inheritance to your pets, as late designer Alexander McQueen did; Stylist Taylor Jacobson and actor Keith Powell review a few fashion catastrophes; OK! dishes on the hottest red-carpet trend this week in Hollywood; Celebrity chef and author Katie Lee reveals to OK! her guilty food pleasures; And Neil Patrick Harris talks same-sex marriage.