NEWS
Inside the New White House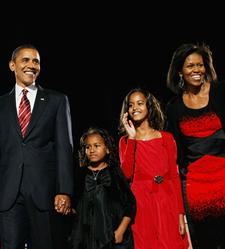 With a new, young First Family set to move into the White House this January, inquiring minds want to know what will go on behind closed doors for the Obamas as Barack Obama takes on the role of President of the United States.
For example, surely stylish Michelle Obama will want to team up with her husband to redecorate the private residence areas with their own touch (); and will Malia and Sasha be able act like the young girls they are and have slumber parties, pizza, and hang up their Hannah Montana posters?
Article continues below advertisement
Momlogic.com enlisted the help of Claire Whitcomb, author of Real Life at the White House: 200 Years of Daily Life at America's Most Famous Residence, to get down to the bottom of those really important questions.
Yes, the Obamas will have their own decorator, Whitcomb says, who will help them with the process of making the White House their home. Sasha and Malia will be able to set up their rooms exactly how they want it, and even have sleepovers – Margaret Truman once had a slumber party in the Lincoln Bedroom!
For more on how the Obamas will make the White House their own, check out MomLogic.com.