NEWS
Inside the TV Upfront parties!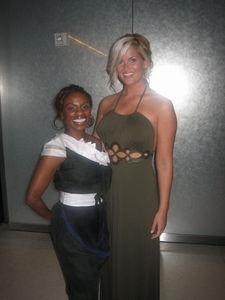 It was TV Fanatic's dream week as I hit the networks' TV upfront parties and got scoop on the hot, new series hitting the airwaves this fall.
On Monday at the NBC Experience at Rockefeller Center, Selma Blair filled me in on her new show, Kath & Kim. "I play an obsessed character who follows everyone in the tabloids," she shared. "I want to be them and I think that their lives are perfect. So the character is really based off all the girls that I see in the tabloids now." Britney, Lindsay and Paris would be flattered!
Article continues below advertisement
Tuesday night at The CW upfront party at Lincoln Center, I hung with the new kids from a familiar zip code. "I move in with my adopted sister Annie," said Tristan Wilds who plays Dixon Mills on the new 90210. "He's going from a bad neighborhood and getting a good opportunity with a good family when they move to Beverly Hills." As for the executive who decided to have Maroon 5 , the band behind the network's new theme song, play a set at the event, thank you!
On Wednesday night I met Simon Baker, star of the new show, The Mentalist, at the CBS upfront party at Rosie O'Grady's restaurant.  The Something New star was as charming as I imagined him to be, and revealed he watches Gossip Girl with his 14-year-old daughter!
I then rushed home to get ready for the America's Next Top Model season finale screening party, hosted by Seventeen magazine. Wanting to pull off my own runway look, I wore a one-of-a-kind design from Project Runway alum Zulema Griffin. "I love your dress," ANTM winner told me before we struck a pose.
Article continues below advertisement
Fox Network threw their upfront soiree at Wollman Rink in Central Park on Thursday. While I didn't get to chat up my favorite Prison Break star, Wentworth Miller, he brushed past me, and it really felt like we had a moment…
I ended the night at South Gate restaurant watching Fran Drescher be honored by CESLIE, The Women's Network and Proskauer Rose for her Cancer Schmancer movement to educate women about early detection of the disease. The Nanny star revealed she's working on a new book about surviving cancer – and a screenplay. "It's a romantic comedy, and I've written the lead for a Cameron Diaz-type," she shared.
Wonder if any of it takes place in a Loehmann's.