NEWS
Insider "Wouldn't Be Surprised" if Drugs Involved in Brittany Murphy Death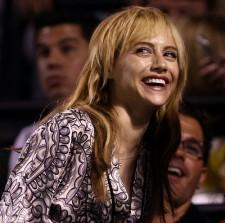 While the LAPD investigates a possible overdose in the untimely death of actress Brittany Murphy, a source who worked with the actress reveals to OK! news of possible drug involvement in her death wouldn't come as a shock. "I really can't believe what happened," the insider tells OK! "But It wouldn't surprise me if it was because of drug use."
"Brittany was sweet and really nice, but her husband was a pain in the ass to deal with," the source — who was recently involved with Brittany on an aborted film project — continues to OK!, adding that her husband, Simon Monjack, "kept demanding more money for her to be in the film."
Article continues below advertisement
The source says Simon was very involved in Brittany's business dealings.
"He just kept pushing and pushing," the source says. "Simon seemed a bit controlling over her and her career."
"He had the upper hand in the relationship. But Brittany just seemed to step back, and let him handle her life."
Earlier this month, rumors circulated that Brittany had been fired from her new movie, currently filming in Puerto Rico, and replaced by Twilight's Rachel Lefevre.
Reportedly, Simon caused a stir in Puerto Rico when he fought with locals contributing to Brittany being cut from the film.
Britt's reps fought back denying rumors that she had been fired from the movie.
"The allegations currently circulating on the internet about Brittany Murphy and her husband Simon Monjack read like a fictional plot from one of the 50 plus movies Ms. Murphy has successfully completed without incident," the rep said.
Article continues below advertisement
"She was not nor has she ever been fired from any job big or small. Mr. Monjack did not engage in any alleged scuffles. Though do to creative differences Ms. Murphy and the production mutually parted ways."
Simon was hospitalized on his way home from Puerto Rico due to difficulty breathing.
He was reportedly incoherent when the EMTs boarded his American Airlines flight, coming in from Puerto Rico on Nov. 28. Brittany was said to have thought he was suffering an asthma attack.
At approximately 8:00 am Sunday morning, emergency services were called to Brittany's L.A. home after she went into an apparent cardiac arrest. Despite multiple attempts, Brittany could not be revived and was pronounced dead upon arrival to Cedars-Sinai Medical Center.
The LAPD is currently undergoing an investigation on the 8 mile actress's sudden and tragic death. Foul play has been dismissed, but a possible drug overdose is still pending investigation.