NEWS
An Insider's View of American Idol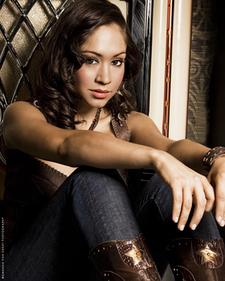 As American Idol rolls on toward the season finale, OK! reached out to one of the few people on the planet who know what it's like to ride the AI rollercoaster for an entire season — Diana DeGarmo — who will share her unique perspective on Idol every week.
APRIL 28
Watching last night's top 5 show for American Idol was a total blast from the past. This week, just a short five years ago, I was standing on that same stage and — coincidentally — singing one of the same songs!
Article continues below advertisement
Just as Allison Iraheta did, I sang "Someone To Watch Over Me," but back then we got to sing two songs for Big Band Night. That is only one of the many changes the show has made since MY Idol days!
(Wow, I kinda sounded like my grandmother for a moment there.... So, yeah, back to THIS season!)
I truly believe that Idol has got a very strong top 5 this year. Every season has its "front-runners," "favorites," and "black horses," but based on last night's show I feel strongly that it just could be anyone's game.
Kris Allen's sweet but sexy version of "The Way You Look Tonight" was an alluring sweep into the beginning of the show. He put you in the mood for the travel back in time and I thoroughly enjoyed his performance — but I could've lived without the "wet" comment from Simon, sheesh!
Holding it down for the ladies, Allison made me proud by singing "Someone To Watch Over Me." It was nice to see her keep her own sense about the song and not get taken away with the theme of the night. I really hope she makes it down to the finals. She has big star written all over her.
Article continues below advertisement
Next up, Matt Giraud started out a little rocky, but was able to swing it home on "My Funny Valentine." I agree with the judges that it was one of the more difficult songs of the night and, even though their voices are different, I was definitely having flashbacks of my season's crooner, John Stevens. Matt could be John's older brother for sure! Or maybe it's just me??
Now, it's funny to watch Idol as a "normal" viewer and be able to point out how the show is shaped and smoothed with a fine-toothed comb because, of course, to round out the evening were Danny Gokey and Adam Lambert.
Danny's choice of "I'm Gonna Love You" was just perfect and gave me chills. I truly love his voice, but my only fear is if we have another Taylor Hicks on our hands. Taylor and Danny both have that blue-eyed soul thing going on, but I'm not sure how his voice would work on the radio today. Maybe if Danny were able to stick to a Rod Stewart meets Michael Buble type album, then who knows? — because his performance for Big Band Night was just magical.
Article continues below advertisement
Anyway, sorry to preach!
So, last, but certainly not least, came Adam, who PERFORMED "Feeling Good." It fascinates me to see how Adam is going to change his songs each week. His version of "Feeling Good" reminded me of how The White Stripes would cover a song like that. For those of you who noticed, Adam was the only one to make a GRAND entrance and his white suit made him stand out from a mile away.
Now, we at home will never know if all of that was Adam or the show's doings, but it sure made his performance special. Last night's show was the very first entire episode of American Idol I have watched in a very, very long time and I actually enjoyed myself!
Idol is a wacky, crazy, amazing experience for any contestant who has ever been a part of it so they all know what I'm talking about... Five years down the road, I can now sit back and enjoy the show for what it is again. I am more than happy to be sitting back on this side of the television and am looking forward to these last final weeks.
—Diana
Diana can currently be seen performing in Back to Bacharach & David, directed by Kathy Najimy, at the Music Box Lounge in L.A. through May 17. And you can always keep up with Diana on her MySpace page!