NEWS
International Women's Day 2011: Google Doodle Honors 100th Anniversary; Demi Moore Tweets Support!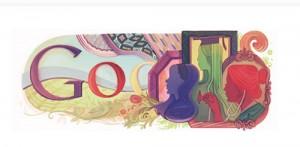 Google is celebrating the 100th anniversary of International Women's Day with a special Google Doodle dedicated to the cause. The multi-colored image has transformed the "gle" into images of women as doctors and graduates, promoting female equality! Demi Moore, Annie Lennox, Gena Davis and Daniel Craig have also joined the cause!
The rights group Women for Women International has also teamed up with Google inviting people to celebrate today, March 8, by gathering on bridges across the world — from New York to Rwanda — to show support for women's rights and the huge accomplishments women have made throughout the years.
Article continues below advertisement
Visit Google's interactive map, HERE, and learn about joining the cause in the clip below!
Celebrities are also joining the the cause, urging the public to take part in the bridge union across the world. Actress Geena Davis and singer Annie Lennox made special video messages about today's bridge walk.
Demi Moore Tweeted, "Happy #internationalwomensday chk this out from one of our true pioneers love this woman!" complete with a link to actress Marlo Thomas's column "The Movement" today on the Huffington Post dedicate to female equality.
James Bond himself, Daniel Craig, dressed in drag for a PSA to support women's equality.