NEWS
Interview: Dennis Hopper on Sleepwalking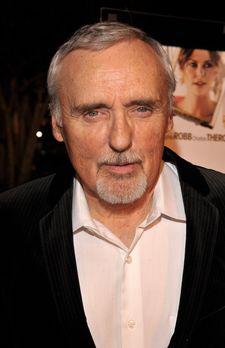 In the film Sleepwalking, Dennis Hopper plays an angry-at-the-world farmer who hits his kids and granddaughter. The actor says he can relate to the character.
"He has a really tough life out there," Hopper tells OK!. "I didn't see him as an evil man. I saw him as a person that was probably disciplined as strongly as a child and given a work ethic whether right or wrong, and that's the way he treated people."
Article continues below advertisement
Hopper notes that the film reminds him of his own youth in a way. "Working that farm alone is not a joy," he says. "I was raised on a wheat farm in Kansas. I was raised in a similar situation and I was whipped when I was a kid if I screwed up. I wasn' t spanked. That's just the way it was.
"In the last 40 to 50 years we've been concerned with the fact that we shouldn't punish our children. It was a way of life, certainly in these farming areas. He obviously has had a terribly hard life and he takes it out on his kids." In the film, Hopper's son, played by Nick Stahl, takes his anger out in one very intense scene — a result of repressed anger that Hopper sees in today's youth all the time. "We see a lot of it, unfortunately, in our society at this point," he says. "All these kids that are bullied in schools and go back and start shooting people. This comes out of the same kind of repression. It's an American tragedy."