NEWS
Introducing OK!'s Latest Blog: Loni Works it Out!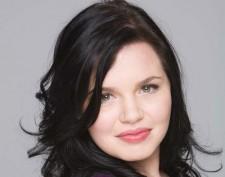 Welcome to the first installment of "Loni Works It Out," where OK!'s beauty and health editor Loni Albert chronicles her trials and travails as she attempts to slim down like a superstar. Follow her here on OKmagazine.com every week and on her Twitter page!
Celebrities. They are gorgeous, glamorous, slim, fit and — in my mind — perfect.
I know, I know, no one is actually perfect (except my dad, or so he insists). But while studying images of Angelina Jolie's flawless face or Cameron Diaz's long, lean bod I can't help but secretly wish to find a blemish, wrinkle, love handle or stretch mark. It's not because I want their careers to flop or their greek-god-boyfriends to throw them to the curb.
Article continues below advertisement
I just want to feel like we have a little more in common. To feel like they have bad hair days, fat days and nothing to wear days. Because although they constantly insist that they do, I'm not convinced.
And everyone's answer is always the same. "Of course they look this way! They're famous! They're rich! They're paid to be stick thin versions of the real world girls! They have trainers and personal chefs and nothing to do but work out and eat lettuce all day!"
The truth? Stars are busy. Like really busy. In the third season of Sex and the City, the girls filmed up to 20 hours a day for weeks at a time. Beyonce's tour schedule took her around the world and back in just a few weeks. Yes, of course the money helps, but these are working girls! They are not at all The Real Housewives of Wherever (No offense Bethenny —you are definitely the exception). They are fit and fabulous because they make it a priority.
Article continues below advertisement
Long story short? We can do it too. And to prove this, I will sacrifice myself. Not in a voodoo, witchcraft kind of way, but in a cutting back carbs and working on the abs kind of way. I will feel the burn with the help of my trainer, Bill Lagaret of David Barton Gym and commit to following a healthy weight loss plan for 6 months to see if I too can achieve a sexy, slim, celeb-worthy physique.
Let me assure you that I am not at all a star athlete. Standing tall at 5-foot-nada and weighing in at a very graceful, delicate 147 lbs — I could certainly relate more closely to the average sized American woman (who wears a solid size 14) than the wasp-waisted celebrities (size 2? size 0? — how can something be a size 0?). I wear a size 10 and although I know that Marilyn Monroe (my idol and the most amazingly beautiful women to ever have graced the planet — I dare you to disagree) wore similar-sized garments, I know that she was taller than I am, definitely more toned (she jogged and lifted weights), and that the sizes back then ran much smaller since the people were smaller.
So, this is what I am working toward and I would love for you to hang around, cheer me on, talk me out of slipping up, and even — if you're feeling incredibly inspired—join along with me.
Recently, OK! asked me to take charge of the "Body & Soul" pages. I was thrilled that they consider me an expert on all things fitness and health, but as I wrote this week's story, "5 Easy Ways to Lose 5 Pounds," I realized that I was not practicing what I preached. How can I ask all of you to do 30 minutes of cardio a day when I'm hitting the snooze button at 6 am?
Article continues below advertisement
So for once, I will take my own advice! I want to look "Red Carpet Ready," "Build an A-list Body," and all the other cheesy headlines you'll be reading in my section. But more importantly than looking hot, I want to feel amazing. I want to feel confident and have energy to get through the day without multiple vanilla skim latte visits at Starbucks. I want to go surfing and be able to stand on a board (in a very small, sexy bikini — naturally). I want to run for the bus without getting winded and I want to have a world of opportunities, instead of insecurities and second guesses.
So here's to mountain-climbing, wake-boarding, marathon-running, mini skirts and skinny jeans. Let's work it out!