NEWS
Irina Shayk on 'Sports Illustrated' Swimsuit 2011 Cover: "I Couldn't Believe It"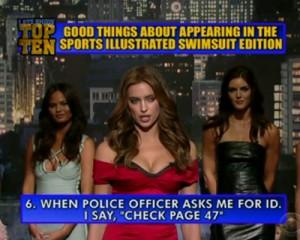 Last night David Letterman had the sexiest Top 10 List ever on his lat night talk show last eventing. The host revealed Russian model Irina Shayk as the 2011 Sports Illustrated swimsuit cover model on the Late Show, and the shocked beauty couldn't contain her excitement. So what do you need to know about the 25-year-old curvy Irina beyond her perfect figure? Well for starters, she dates soccer hunk Cristiano Ronaldo.
Article continues below advertisement
Irina has been dating the Portuguese soccer star of Spanish soccer club Real Madrid since 2010. Maybe he will be on the cover of Sports Illustrated next!
This year marks Irina's fifth appearance in the highly-anticipated issue, but her first cover.
The beauty is from a small town near Chelyabinsk, Russia and was "discovered" in 2004 while on a three-day train ride from Chelyabinsk to Moscow. She has modeled for big-time campaigns for brands like Intimissimi, Lacoste and Guess.
"There were 10 models there to do the Top 10 List, and nobody knows until the last minute who the cover will be," Irina said of her win, via The Hollywood Reporter. "And then I saw it, and I couldn't believe it."
Catch Irina in the clip below as she delivers the No. 6 "Good Thing About Appearing in the Sports Illustrated Swimsuit Edition" and admire her full size cover below!