NEWS
Irony of Golfing Magazine Urging Barack Obama to Learn from Tiger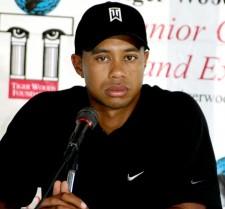 Golf Digest wins the prize for the most awkward magazine cover of 2010: The January issue features a mock up of Barack Obama crouching on the golfing green, while Tiger Woods plays his caddy. The tagline reads, "10 Tips Obama Can Take From Tiger."
The magazine suggests the President watches the way Tiger preserves his squeaky-clean public image, "Tiger never does anything that would make him ridiculous."
Article continues below advertisement
The article also refers to Obama and Tiger as "two men who might have much to talk about, like siblings separated at birth." The golfer is praised as "a good role model because has always been able to pull himself together after setbacks".
The magazine went to print in mid-November, only a couple of weeks before a string of cocktail waitresses came forward to claim affairs with the golfing great.