NEWS
Isla Dishes on 'Confessions'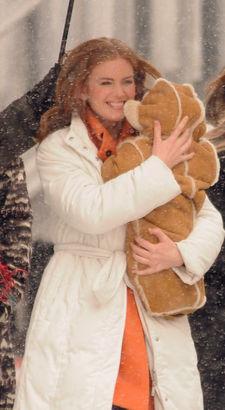 Isla Fisher stars in the romantic comedy Confessions of a Shopaholic, which is filming now in NYC.
"I'm having a great time doing it," Sacha Baron Cohen's fiancee, 32, says.
Is it hard to lose her Aussie accent?
"It is sometimes. It depends on the scene."
She leaves their 4-month old daughter Olive to caregivers while she works on her lines.
How's motherhood?
"Good," Isla admits.
"She has a beautiful baby," co-star Krysten Ritter tells me. "Working with Isla's a dream. I love her, she's fun, she's hysterical. She's funny, she's very alive on camera. It is a lot of improvising and ping-ponging and trying new things. It's a good time. We're together all the time. Usually people are just bringing us coffee because they don't let us out of their sight. I spend the day with her. I really like her."
Article continues below advertisement
What does this shopaholic splurge on?
"Eye cream," Krysten says. "Any kind of wrinkle cream, eye cream or anti-aging thing or hydrating cream I'm such a sucker for. I won't spend any money otherwise — I'm so cheap — but I'm a big husk for product. I'll spend a ridiculous amount of money on products."
Watch for Confessions of a Shopaholic in theaters later this year.