NEWS
IN THIS ISSUE: Behind Ryan's Motives to Get Bentley Back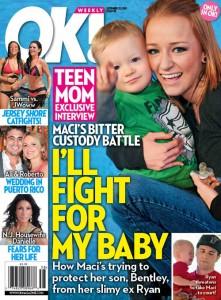 As Teen Mom star Maci Bookout prepares herself for a custody battle over her son Bentley, fans of the young mother are wondering — what is really behind Ryan Edwards' sudden need for more daddy duty, especially when Maci claims that his mom does the majority of caring for Bentley? In the new issue of OK! — on sale everywhere now! — we take you behind Ryan's motives.It could be jealousy of the time Maci's new beau, Kyle King, spends with Bentley, who reportedly calls "da-da."
Article continues below advertisement
"Maci and Kyle can't help but wonder if this change of heart is just Ryan's immature way of dealing with Maci moving on in a new relationsip," says a source close to the couple.
OK! EXCLUSIVE: THE MAN MACI'S SON CALLS "DA-DA"
Or — as Ryan's recent Tweets to followers telling them when he'll be on the show seem to indicate — perhaps Ryan's interest in time with his son is an easy way to fame. He could have a publicity-induced conscience, an expert explains.