NEWS
IN THIS ISSUE: Demi Lovato — What Went Wrong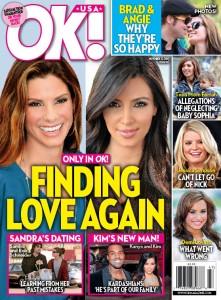 The signs of Demi Lovato's emotional distress were evident this past summer, but no one — including Demi — was ready to face them until early Halloween weekend, when the Disney star reached her breaking point and allegedly punched a dancer. Demi has since left her tour with the Jonas Brothers and checked into a treatment facility. In this week's issue of OK!, we take a look at what may have caused this rising star to fall so low.
Article continues below advertisement
Signs of Demi's unhappiness have been there for a while. At the Camp Rock 2 premiere over this past summer, Demi was visibly miserable.
"Kids were coming up to her and asking for autographs, and she seemed tense and uncomfortable," a witness tells OK! of the Aug. 18 event.
"She even snapped at one little girl. She was on edge."
OK! NEWS: DID DEMI LOVATO DATE WILMER VALDERAMMA BEFORE REHAB?
It's good that Demi, 18, has reached out for help for what her rep describes as "emotional and physical issues she has dealt with for some time."
It's been speculated that Demi's proximity to her ex-boyfriend Joe Jonas throughout the tour may have played into the pop icon's breakdown.
Joe and Demi had an intense two-month romance before Joe moved on to Twilight's Ashley Greene.
OK! NEWS: DEMI LOVATO REHAB UPDATE: ON THE ROAD TO RECOVERY?
"It was my choice to break up, but I love her as a friend," Joe, 21, said after he split with Demi in May.
Ashley has since showed up frequently to their concert tour, making it even harder for Demi to move on.
Article continues below advertisement
"You've got to brush it off," Demi said bravely. "You can't do anything about it other than to just keep going."
OK! GALLERY: DEMI LOVATO ON JOE JONAS: "WE'RE BACK TO BEING BEST FRIENDS"
Joe and Ashley's relationship isn't the only thing that seemed to follow Demi everywhere she went. In 2008, Demi admitted to Ellen DeGeneres that she was bullied so badly in the seventh grade that she switched to homeschooling.
"Bullying is a scar you carry for life, and you have to struggle to deal with it," says Dr. Patricia Farrell, a psychologist who has not treated Demi.
Dr. Farrell speculates that Demi's alleged assault of dancer Alex Welch might have been backlash from her bullied past.
OK! NEWS: WAS ASHLEY GREENE & JOE JONAS HOOK-UP DEMI LOVATO'S BREAKDOWN?
"Pent-up anger can find unwelcome release with easier targets later," Dr. Farrell explains.
Article continues below advertisement
Demi reportedly punched Alex after hearing that the backup dancer had tattled to Demi's stepfather that she'd been partying. "Demi felt awful about her behavior," says an insider.
But while "Demi feels very alone" and regrets her actions, an insider reveals that "her behavior is what's driven people away."
OK! NEWS: DISNEY TO DEMI LOVATO: WE SUPPORT YOU!
Those close to Demi still have hope for the troubled pop star now that she's moving in the right direction.
"Demi's taking control and is serious about getting help," says a family insider. "She's at a real facility, not a Hollywood-type center. She and her parents are taking this seriously."
FOR MORE ON DEMI LOVATO & WHAT WENT WRONG, PICK UP THIS WEEK'S ISSUE OF OK! — ON SALE EVERYWHERE NOW!