NEWS
IN THIS ISSUE: Dr. Drew — "Maci is Deeply Attached to Ryan"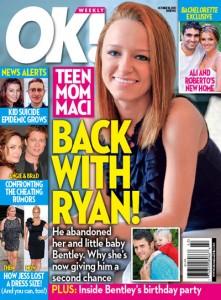 While Teen Mom's stars Maci Bookout and ex-boyfriend Ryan Edwards are coming together at the end of the month to celebrate their son Bentley's 2nd birthday, it looks as though soon they might have something even bigger to celebrate. Ryan and his girlfriend Kathryn have called it quits and now that Maci and her boyfriend Kyle King have also broken up, the young mother has left Nashville and returned to Chattanooga, Tenn. — closer to Ryan — where she seems to be ready for a romantic reunion. Dr. Drew Pinsky, who has worked closely with the former couple, still sees a lot of potential in Maci and Ryan's future together, but it won't be easy.
Article continues below advertisement
Ryan says the relationship imploded when Maci confessed she had been having an affair with Kyle, but Dr. Drew says Maci's cheating doesn't mean she still doesn't still have strong feelings for her ex. "Maci is deeply attached to Ryan," Dr. Drew admitted. "He has a profound effect on her life whenever she's in his presence."
OK! EXCLUSIVE IN THIS ISSUE: RYAN'S DAD ON HIS SON'S RELATIONSHIP WITH MACI
Maci has publicly denied Ryan's cheating allegations, but Ryan's dad, Larry, supports his son's story.
"When he confided to me about it, he was crying."
OK! COVER STORY: TEEN MOM MACI — BACK WITH RYAN!
Whatever the issue was the finally broke the couple apart, both Maci and Ryan are working on overcoming their past issues and coming together for their son, Bentley.
Under the right circumstances, Dr. Drew still has firm faith that Maci and Ryan can reconcile. "I do," Dr. Drew told OK!. "Ryan's a good guy and he has a good family. But he's very resentful."
Article continues below advertisement