NEWS
IN THIS ISSUE: Is Farrah Putting Little Sophia at Risk?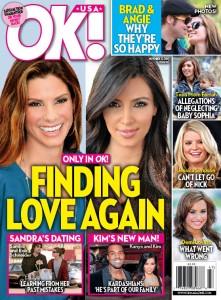 Childcare workers tell OK! that Farrah Abraham's behavior may be threatening the well-being of her 22-month old daughter Sophia. This week's issue of OK! investigates this claim and the shocking damages Farrah's careless parenting might be inflicting upon baby Sophia.
Farrah gets free childcare from the state while she attends class and works her restaurant job, a benefit the Teen Mom star has taken full advantage of.
Article continues below advertisement
"Farrah tended to leave Sophia with strangers a lot," Brittney Scheer, a licensed childcare provider in Council Bluffs, Iowa, who looked after the tot for 9 months, tells OK! exclusively.
A second caregiver adds: "The first time I met Farrah, she showed me the diaper bag and went out the door."
OK! VIDEO: TEEN MOMS LOOK TOWARD THE FUTURE
Brittney tells OK!: "I'd have Sophia virtually all day, every day. Farrah left the baby with me to run errands and shoot MTV — and sometimes she'd forget to come get her."
Both Brittney and her co-worker say that Sophia's development is worryingly slow, a possible symptom of Farrah's hands-off parenting.
"She wouldn't play or engage with other kids," Brittney says. "She'd cry and hyperventilate if I put her down. She could stand, but she couldn't walk. My own child is about the same age and he's running around."
But that's not the worst of it.
Article continues below advertisement
"I haven't heard her say one word," notes the second caregiver.
Brittney couldn't stand idly by while Sophia suffered. "I reported to the state that Sophia wore filthy clothes, and that when I'd visit her home, there'd be dirty diapers everywhere and no crib," adds Brittney, who says she stopped working with Farrah out of frustration. "Whenever I addressed her parenting skills, she'd get mad and say she's a great mom."
Brittney isn't the only one worried about Sophia's developmental delays. According to child psychologist Dr. Michele Borba, these are "red flags" that something is seriously wrong.
OK! VIDEO: 'TEEN MOM' FARRAH ADMITS SHE TOOK HER MOM FOR GRANTED
"Number one is no language," Dr. Borba (who has not treated Sophia) tells OK!. "Number two is the constant need to be held. Number three: Socialization should be setting in. And number four: She, clearly, should be walking."
The problems could be neurologically- or environmentally-based, explains Dr. Borba. She advises that Farrah should "get the advice of a trained professional — ASAP. Do not wait: Go immediately to a pediatrician."
FOR MORE ON FARRAH AND THE WELL-BEING OF BABY SOPHIA, PICK UP THIS WEEK'S ISSUE OF OK! — ON SALE EVERYWHERE NOW!