NEWS
IN THIS ISSUE: Jillian Harris Gives Her Home a Face-Lift!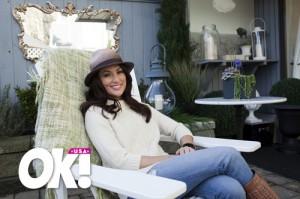 "One day, I just literally took a sledgehammer to my kitchen and that was it!" Jillian Harris tells OK!. Her sudden craving for destruction came shortly after her fairy-tale romance with Ed Swiderski, whom she fell in love with on The Bachelorette, fell apart. She'd split from Ed, was living back in Vancouver, Canada, and decided it was time to make the house she lived in her real home. As an interior designer, she was the perfect woman to do it, and in this week's issue of OK!, we've got all the photos!
Article continues below advertisement
"I'm the happiest I've been in five years," Jillian, 31, says.
And now — along with her "new" house — she has a new job: "ABC's Extreme Makeover: Home Edition called, I'm so excited to be working there!"
Some of her big changes include:
• Kitchen magic: "Entertaining is really important to me and I've always dreamed of having Carrara marble countertops," says Jillian, who knocked out part of the wall to open up the kitchen."
• Her cozy haven: "No man would ever tolerate a bedroom like this — so while I'm living by myself, I'm going to make it as girly and airy as possible," Jillian says. "My vintage blanket reminds me of where I'm from."
• Living room upgrade: "When I've got my little fireplace on I just feel so at home," she says. "It's really important for me to have that downtime and have that place where I can just go and veg out."
FOR MORE ON JILLIAN'S NEWLY FAB HOME, PICK UP THE NEW ISSUE OF OK! — ON SALE EVERYWHERE NOW!