NEWS
IN THIS ISSUE: Kate Middleton's Future Life as a Princess!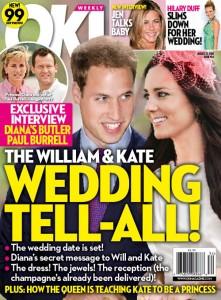 When Prince William and Kate Middleton say "I do," during their upcoming lavish morning ceremony — details of which are revealed in the new issue of OK! — Kate will go from being an ordinary girl, to a princess! So what will her life be like in her new role? Princess Diana's former butler, Paul Burrell, sheds some light on Kate's future as part of the royal family.
As Princess of Wales, how will Kate spend her days?
Article continues below advertisement
She will be involved in philanthropy. She will not have the freedom that she has now, no matter how she tries.
OK! GALLERY: GROWING UP ROYAL — THE LIFE OF PRINCE WILLIAM
How many staff members will Kate have?
She'll have a dresser to look after her clothes, do her laundry and keep her wardrobe in order. They will have someone in charge of their apartment or house and a couple of housemaids to clean and make the beds. And then if they've got an estate, there may be groundsmen. They'll have a chauffeur for
official occasions. William has a valet to look after his wardrobe. The list goes on.
IN THIS ISSUE OF OK!: HOW WILL WILLIAM & KATE'S WEDDING UNFOLD?
How will Kate and William's marriage be different from past royal marriages?
William and Kate are lucky; they've gone from friends to falling in love. Diana never had that long period of time to really get to know Charles. They were literally married within a year. They're taking care of Kate, and I think lessons from the past have been well and truly learned.