NEWS
IN THIS ISSUE: Kendra Wilkinson — I Ate So Much Junk Food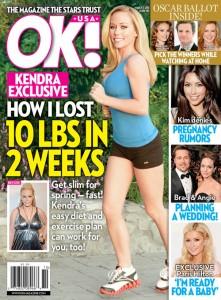 Since she became a mom, it's been more than a year of ups and downs for Kendra Wilkinson-Baskett — literally, on the scale, as well as emotionally. But the new mom is learning how to balance her cravings for junk food and other less healthy options with exercise and better nutrition – even during big events!
"I always thought I needed to be on some specific diet," Kendra tells OK!. "But I've noticed that it's all about where you are and what you're doing in life. If I want to eat junk food, I go the gym. If I'm taking a break from working out so hard, I eat more salad."
Article continues below advertisement
Just a couple of weeks ago, Kendra knew she couldn't make it through the Super Bowl without eating party food. "It's a huge holiday for me," says the football fan (whose hubby, Hank Baskett, plays for the Minnesota Vikings).
"I ate so much junk food, but you know what I did? I went to the gym and ran two miles in about 17 minutes. I got a good sweat in, and then I felt good about eating chips and a turkey burger." tweaking her diet "Cheat days are fine, but be honest so you work out harder," Kendra's trainer, Nicky Holender, tells OK!. "Weight loss is about calories in versus calories out. One pound of fat equals 3,500 calories. So you need to have a negative 3,500 to lose one pound of fat. By eating ultrasmall portions with mostly protein and working out hard, you can lose a lot of weight fast."
Kendra admits that she was never the healthiest eater, but during her pregnancy, she went a little nuts with food. "I would order two cheeseburgers and a 10-piece Chicken McNuggets from McDonald's and eat it all within 10 minutes," she confesses. Though she gave up the fast-food binges after little Hank was born, Kendra still has a fondness for snacks.
FOR MORE ON KENDRA'S DIET SECRETS, PICK UP THIS WEEK'S ISSUE OF OK! ON SALE EVERYWHERE NOW!