NEWS
IN THIS ISSUE: Martha Stewart Shares Her Recipes for the Perfect Party!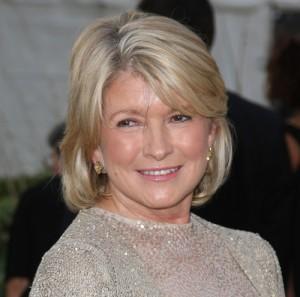 If anyone knows exactly how to craft an elegant holiday cocktail party for a handful of friends with minimum fuss and maximum impact, it's Martha Stewart. Martha shares some of her best party tips and delicious recipes in the latest issue of OK!.
"Every year during the Christmas season I try to host a few parties at home," explains the entertaining expert. "Because I go all out with my decorating, I love to share these visions with my friends — and great food."
Article continues below advertisement
Bestowing her entertaining expertise exclusively with OK!, Martha divulges the mouthwatering holiday recipes she'll be serving her own guests this year.
Campari, Gin, and Orange
Active Time: 5 minute
Makes: 2
4 ounces gin
2 ounces Campari
1 ounce Clement Creole Shrubb (wine-searcher.com)
Ice cubes
Garnish: orange-peel twists
• Shake gin, Campari and clement creole shrubb in an ice-filled cocktail shaker. Stain into two martini glasses. Garnish each with a twist.
Pancetta-Wrapped Figs
Active Time: 20 minutes
Makes: 3 dozen, serves 6 to 8 people
½ cup red-wine vinegar
½ cup water
1 tablespoon light-brown sugar
1 tablespoon juniper berries
10 whole black peppercorns
2 whole cloves
1 cup dried black mission figs, stemmed
12 ounces pancetta, sliced into 1/8-inch-thick rounds and cut into ½-inch-thich strips
1. Bring vinegar, water, sugar, juniper berries, peppercorns, and cloves to a boil in a small saucepan. Add figs, and simmer gently for 5 minutes. Remove from heat. Let stand, covered, to bring to room temperature.
Article continues below advertisement
2. Preheat oven to 350°. Transfer figs to a cutting board using a slotted spoon; cut in half. Wrap a pancetta strip around each half. Transfer, seam side down, to a wire rack set on a baking sheet. Bake until pancetta is browned, about 30 minutes. Secure each with a toothpick. Serve warm.
Rosemary Vodka Tonics
Active Time: 5 minutes (total 2 hours 10 minutes)
Makes: 2
2 ounces vodka (Martha recommends Stolichnaya)
1 ounce green chartreuse
1 ounce rosemary simple syrup
Ice cubes
4 ounces tonic water
Garnish: rosemary sprigs
Combine vodka, chartreuse, and simple syrup. Divide between 2 ice-filled glasses. Top off each with 2 ounces tonic water. Garnish with rosemary.
Rosemary Simple Syrup
Time: 5 minutes (total 2 hours 5 minutes)
Makes: ½ cup
½ cup sugar
½ cup water
1 large rosemary sprig
Bring sugar and water to a boil in a saucepan. Cook, stirring, until sugar dissolves. Remove from heat. Add rosemary. Let steep for 2 hours. Remove rosemary sprig.
Article continues below advertisement
Artichoke Turnovers
Active Time: 30 minutes (total time 2 hours and 20 minutes)
Makes: 40, serves 8 to 10
4 tablespoons unsalted butter
1 large shallot, minced
2 teaspoons minced garlic (from 3 small cloves)
3 tablespoons all-purpose flour, plus more for surface
½ cup dry white wine
½ cup whole milk, warmed
½ cup homemade or store-bough low-sodium chicken stock, warmed
Coarse salt and freshly ground pepper
Pinch of cayenne pepper
1 pound frozen artichoke hearts, thawed and chopped
½ cup finely grated parmesan cheese (1 ounce)
½ cup finely grated pecorino romano cheese (1 ounce)
1 tablespoons finely chopped fresh thyme
1 ½ teaspoons finely grated lemon zest
1 teaspoon Dijon mustard
2 packages (14 ounces each) frozen puff pastry, thawed
1 large egg, lightly beaten for egg wash
1. Melt butter in a small sauce-pan over medium heat. Cook shallot and garlic for 1 minute. Add flour, and cook, stirring constantly, for 2 minutes. Add wine, and cook until reduced by half, about 2 minutes. Whisk in milk and stock. Bring to a boil. Season with 1 teaspoon salt, some pepper, and cayenne. Simmer until thickened, about 2 minutes. Remove from heat and stir in artichoke hearts, cheeses, thyme, zest, and mustard. Let cool completely. Refrigerate until ready to use.
Article continues below advertisement
2. Preheat oven to 400°. Roll out puff pastry to an 1/8-inch thickness on a lightly floured surface. Cut into forty 3-inch squares (you will have pastry left over).
3. Arrange 1 tablespoon artichoke mixture in center of each square. Brush 2 perpendicular edges with egg wash, and fold over to form a triangle with remaining edges, pressing to seal. Brush 1 corner of triangle with egg wash and join it to the opposite point. Transfer to a parchment-lined baking sheet. Repeat with remaining dough and filling. Refrigerate or freeze until firm, 30 minutes to 1 hour.
4. Brush turnovers with egg wash. Bake until golden, about 20 minutes. Let cool for 5 minutes. Serve immediately
(make ahead – unbaked turnovers can be frozen or up to 3 days)
For more of Martha's ideas about entertaining at home, tune into The Martha Stewart Show, weekdays at 10
a.m. ET on the Hallmark Channel. And for more of her favorite holiday recipes, check out the December issue of Martha Stewart Living, on newsstands now.
FOR MORE HOLIDAY PARTY TIPS & THE LATEST CELEBRITY NEWS & PICS, BUY THE NEW DOUBLE ISSUE OF OK! — ON STANDS EVERYWHERE THURSDAY, DEC. 16!