NEWS
IN THIS ISSUE: Robert Pattinson's Ready to Put a Ring On It!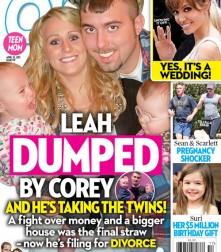 Apr. 14 2011, Published 8:24 a.m. ET
View all comments
Talk about surprises! Robert Pattinson has picked out the perfect gift for his love, Kristen Stewart. According to a Twilight insider, in the new issue of OK!, Rob, 24, has bought a diamond "promise ring" for his 21-year-old co-star/ girlfriend, and he's just waiting for the right moment to give it to her.
OK! GALLERY: 21 KRISTEN STEWART MOVIES ON HER 21st BIRTHDAY!
The friend of the couple reveals that Rob has been showing off the vintage ring, which was made in the 1800s.
Article continues below advertisement
OK! NEWS: TWELVE TWILIGHT COCKTAILS KRISTEN STEWART SHOULD TRY NOW THAT SHE'S 21!
"The ring is rose-cut diamonds set in rose gold," the friend says. "It's a very feminine piece of jewelry and very old. "The diamonds aren't huge, and it doesn't look like an engagement ring," the insider continues, adding that Rob, who spent about $17,000 on the ring, "found it through a dealer who specializes in estate jewelry, and he knew it was just perfect for Kristen."
OK! THROWBACK VIDEO — ROBERT PATTINSON & KRISTEN STEWART TALK KISSING IN TWILIGHT
The rock is coming without a proposal — but not because Rob wants it to. "Rob is more mature than Kristen, and he's ready to settle down," the insider says. But the actor realizes that though Kristen (who just turned 21) loves him deeply, she's not prepared to be Mrs. P. just yet.
"Rob would marry Kristen, but he knows she's not ready, so he's taking baby steps," the friend adds. "That's why he bought the promise ring."
OK! NEWS: ROBERT PATTINSON ON FILMING BIRTH SCENE WITH KRISTEN STEWART — "KIND OF HILARIOUS"
Rob recently told a reporter that he's serious when it comes to love and commitment.
"I'm not a man for short and superficial love affairs," he said. "This is me, just me. I'm not interested in casual relationships. I need to know people.... I want a family with two or three kids."
FOR MORE ON KRISTEN AND ROB'S FUTURE MARRIAGE PLANS, PICK UP THIS WEEK'S ISSUE OF OK! — ON SALE EVERYWHERE TOMORROW!